A motorcyclist found himself facing a jaw-dropping parking charge of over $1,330 just to enter a multi-storey car park at Jurong West Street 75.
This bizarre occurrence unfolded on September 3rd, at 1:50 pm. A Facebook user who shared this unusual incident shed light on the situation.
The perplexing situation began when the motorcyclist approached the car park gantry. It was at this point that things took an unexpected turn.
Instead of smoothly entering the parking facility, the motorcyclist found themselves stuck at the gantry. In an act of courtesy, the motorcyclist decided to move aside and let another vehicle go ahead.
However, what followed was even more surprising. The motorcyclist, now a bystander, decided to tailgate the vehicle in front. This sequence of events was captured by the observant netizen who shared the incident on Facebook.
The post quickly gained traction, garnering over 120 comments and a slew of theories as to why the motorcyclist was subjected to such an exorbitant parking fee.
Netizens' share possible reasons
Correct me but why enter must pay not exit then show the amount meh.
Let me explain why it shows a fee of $1,331.46. Some time ago, this motorcyclist entered the car park then he evaded the parking barrier. Now he returns back to the same car park. Thats why.
Its the IU or the gentry EPS is having an issue. Never come across of overcharged parking from HDB … But many motorists tried to evade parking charges are common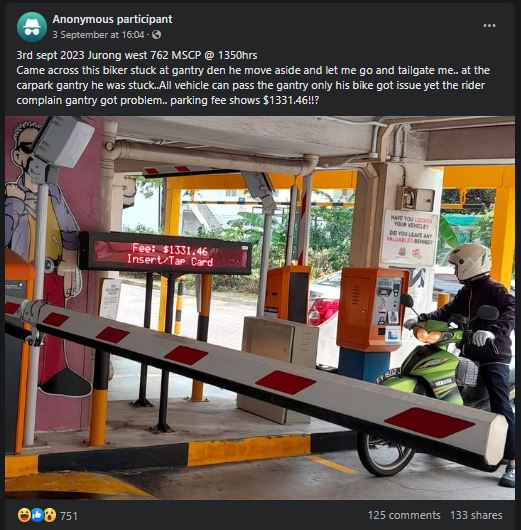 Similar incidents
This incident may remind some of a similar, albeit more expensive, parking mishap that occurred at Jewel Changi Airport in April 2019.
A delivery driver there found themselves saddled with a parking charge exceeding $3,100. The reason? A failure to record the driver's previous exit from the area.
A spokesperson for Jewel Changi Airport Development explained back then, "There was no record of the driver leaving the car park, and hence the parking charge snowballed until the next visit, which took place on April 24."