A man posted several photos on Twitter after he witnessed a Malaysia 7-Eleven staff cleaning the microwave with a mop he used to clean the floor.
The post went viral and 7-Eleven responded to his tweet and apologized to the man.
From mopping the floor to mopping the oven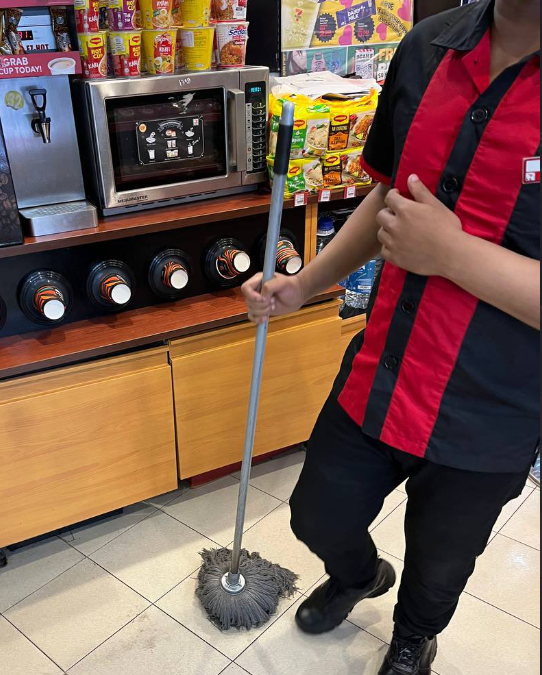 In his tweet the man said: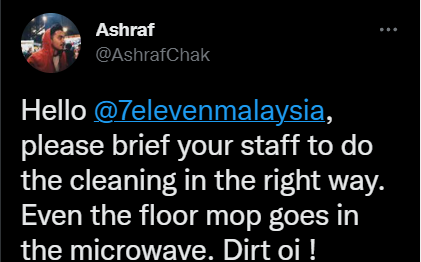 Translate to: Hello @7elevenmalaysia , please brief your staff to do the cleaning in the right way. Even the floor mop goes in the microwave. Dirt oi!
7-Eleven (Malaysia) response:
Hi, we at 7-Eleven would like to apologize for the actions of one of our employees. This violates the sanitation protocol of premises 7E. We assure you that immediate action has been taken against the staff to ensure this does not happen again. Thank you!
Her are what netizens think:
Clean the microwave using the mop, it's really wrong… you should warn the staff, then you report/DM admin 7E, this is meant to go viral, eh?
No choice ah, 3rd world country 3rd world mindset.
I want to be honest about something, I used to work at this place, there was a cleaner who washed the floor, then he went to wash the toilet bowl and continued to use the same mop
Bill Gates likes to hire people like this. Lazy people solve many problems in a simple way.
As former 7E employees, we were taught to do this. This is all 'common sense'. Can make an email complaint to 7E for further action. HQ will check the CCTV.