A Malaysian going by the alias of 李民 on Facebook recently posted in the Facebook group KL娱乐站 a photo of thick wads of 50 and 100 Ringgit (RM) bills being kept in carton boxes, plastic bags and strewn over the floor.
The Malaysian also captioned his post in Chinese "钱放银行不安全了,还是收藏在家比较安全" which translates to "It is no longer safe to put cash in the bank, keeping it at home should be safer."
Here is his post
"钱放银行不安全了,还是收藏在家比较安全"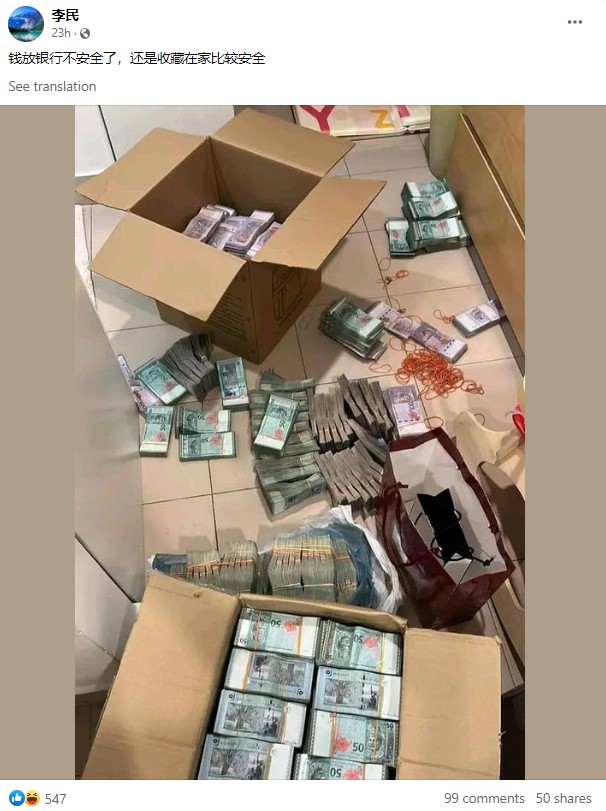 Netizens comments
Most of the comments are in Chinese so we took the trouble to translate it into English for the sake of the majority of viewers.
The termites must be thinking, WOW we have another big feast coming
How to keep so much money in the safe?
Be careful you like that post on social media later at night get robbed
I also put around 10-20k RM at home because troublesome to go to the bank
Did you just come back from Genting?
May I know where is your house?
The notes real one not? The Tuanku got smile?
GONG XI FA CAI HONG BAO NA LAI
Yet another gong dai flaunting his wealth on social media disregarding the safety of his family and himself
Counterfeit Ringgit allegedly going around
In another post that was seen recently in the group, there were cases of counterfeit RM bills circulating around and Malaysians were using social media and messaging platforms like Whatsapp to ask each other to take note.
Related
Image source: 李民/Facebook