A horrific murder occurred in Klang on Sunday morning (21st August). A Chinese man came home in the early morning and was shot 8 times in a row by the killer, and the murderer used a Parang knife to take his life. The man died right in front of his home!
Klang South District Police District Chief Assistant Commissioner Xie Hongfang issued a statement confirming that the shooting took place at 12:22 am (August 21) at Seri Kalong Garden, Klang South District.
"At 12.22am today, Klang South Police Headquarters received a call from a local man claiming to have heard gunshots and saw a man lying by the roadside of his home in a residential area."
He pointed out that when police went to the site of the incident, they found a 41-year-old Malaysian citizen lying on the ground covered in blood. When ambulances arrived at the scene, paramedics confirmed the man had died at the scene.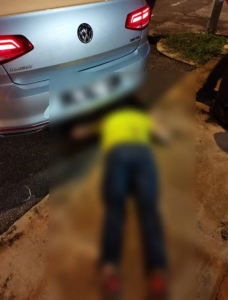 "According to the police investigation, the deceased had 10 criminal records, including serious criminal cases involving kidnapping."
He revealed that according to the investigation, it was found that the shooting occurred in a residential area, and there were 2 entrances and exits in the road section of the crime scene, which could lead to the main road.
"According to CCTV footage, at 12.17am this morning, the deceased arrived in front of the house in his Volkswagen. When he got out of the car and went to the fence to open the house, a Nissan Almera suddenly stopped by the road behind him."
He pointed out that three men quickly got out of the car and fired 5 to 8 shots at the deceased. After the deceased fell to the ground, the assailant chopped the deceased with a parang knife before leaving, and then got into the car and fled the scene.
"The forensic department of the Criminal Investigation Department of the Selangor Police Headquarters (IPK) has conducted a forensic search at the scene and found some physical evidence that could assist in the investigation of the case."
He said the police have opened an investigation into the case under Section 302 of the Penal Code (murder), which is the only criminal law that imposes the death penalty if convicted.