A post was recently uploaded onto Facebook by a Malaysian man sharing how his child was so sweet to make him curry potato buns for him to bring across into Singapore.
According to the man's post, the man shared that his child was afraid that he would be hungry on the journey to Singapore.
Touched by the sweet gesture, the man said that he did not have the heart to tell his child that Singapore customs would not allow him to bring the buns in.
Instead, the man sat at the Larkin bus terminal and finished up all the five buns made by his child before he made his way to Singapore.
He also joked in his caption and said that he was shocked to see a total of five buns inside the container when he opened it up initially and said that 2-3 buns in future would be enough.
The said that he took 1 and a half hours to finish up all the buns which his child had made for him.
Ending his post off, the man said thanked his child for keeping him in his mind and said that he loved his child.
Here is his post
"现在的小孩担心爸爸我回新加坡没东西吃
就亲自做了咖喱马铃薯包子给爸爸我带去新加坡镇饱肚子
有时候做爸爸的也不忍心对他说,新加坡是不能带包子进去的叻(但这句话我没有对小孩他说)
我唯有一人在larkin转换站把小孩的心意弄的包子给吃完
小孩丫。。。下次包子弄2粒到3粒爸爸我就吃饱了丫
我打开盒子一看👀哇!!!!有5粒耶。。。真的吓到爸爸我了
不过爸爸我用了1个小时半给吃完啦 嘻嘻
谢谢你有爸爸的心
爸爸爱你哟"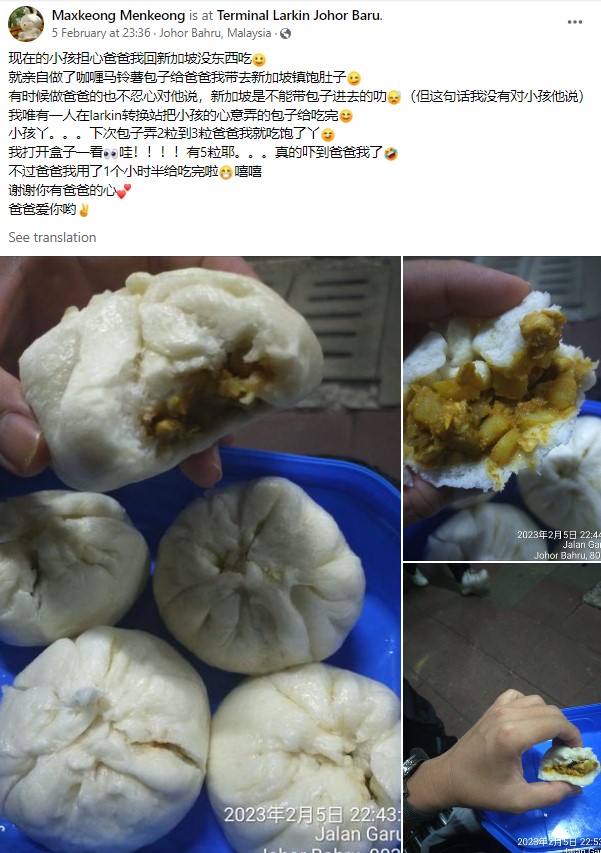 Netizens' comments
Comments by netizens mostly praised the man's child for being filial and for keeping her dad close to her heart.
Here are some of the comments translated to English.
Usually it is the parents who worry for the child, but this seems like the other way round and shows that his child really loves him.
What a filial child! Glad that he has good upbringing
Actually if no meat should be able to bring it into SG
I teared up looking at this, reminds me of how my child would always run to me whenever he sees me
Image source: Maxkeong Menkeong/Facebook