A female kindergarten teacher in Malaysia beat the girl's palms, shoulders and back with her palms because she did wrong math homework many times, causing serious bruising on the girl's shoulders and back. Realizing that she made a mistake, she publicly apologized to the girl and her family and announced that she would no longer step into the early childhood education industry.
The teacher involved posted a public apology on Facebook at around 11:00 p.m. on Friday (12th), saying that between 9:00 a.m. and 10:00 a.m. on August 10th, she was dissatisfied with the girl's repeated mistakes in doing math homework. She beat the kindergarten girl on her palm 5 times, shoulders and back 35 times within half an hour, resulting in serious bruises on the girl's shoulders and back.
The victim girl had severe bruises on her shoulders and back.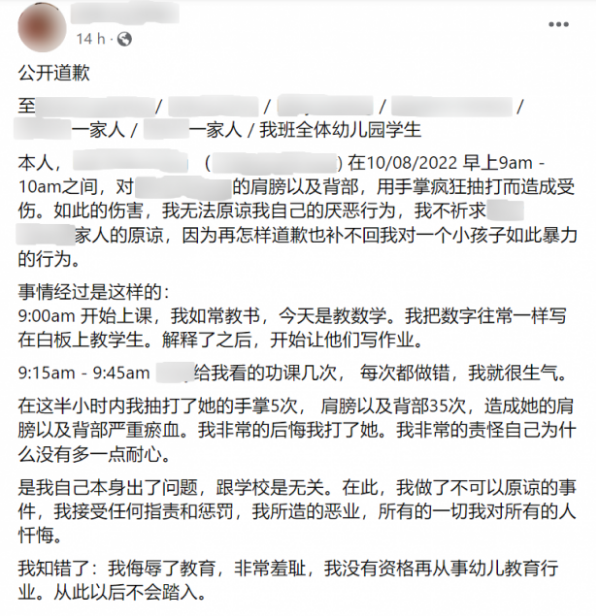 The 51-year-old teacher regretted her actions afterwards and apologized to the girl concerned, the girl's family and the students in her class on Facebook. 
She mentioned in the article that she could not forgive her disgusting behaviour, nor did she ask for forgiveness from her family, because she believed that no apology would make up for her atrocities against girls.
"It's my own fault, and it has nothing to do with the school. Here, I have done unforgivable incidents, I accept any accusation and punishment, the bad karma I have done, all I repent to all people."