n the bustling Our Tampines Hub Hawker Centre, an incident recently occurred that left a customer feeling bewildered and upset. The dispute revolved around the price of a beloved local dish, Nasi Lemak, and resulted in an unfortunate exchange between the customer and the hawker stall owner.
The Customer's Story – A Shocking Discovery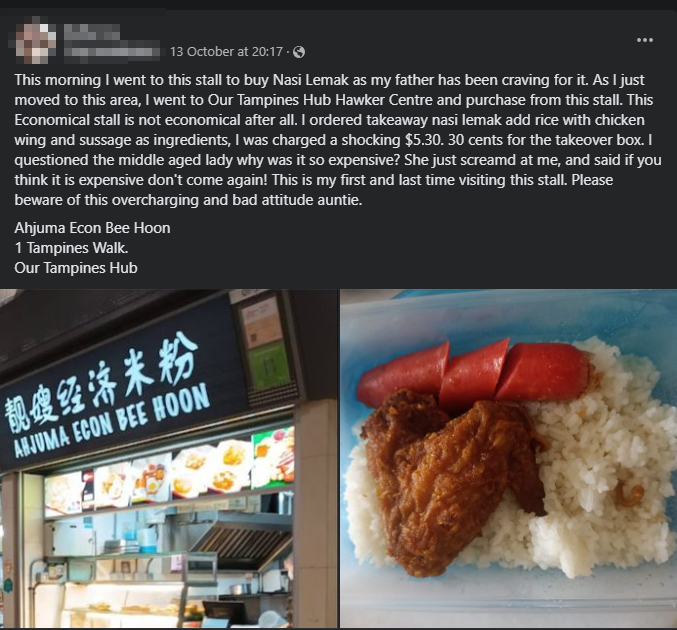 The person who was screamed at shared her experience. She mentioned that she had moved to the area recently and decided to buy Nasi Lemak from a particular economical stall. Her intentions were simple: to satisfy her father's craving for this beloved dish. However, the experience turned out to be quite the opposite of what she had expected.
She ordered a simple takeaway Nasi Lemak with rice, chicken wing, and sausage as the ingredients. When the bill arrived, it was a surprising $5.30. To add to her perplexity, there was an additional charge of 30 cents for the takeaway box. Perplexed by the high price, she summoned the courage to question the middle-aged lady running the stall about the steep cost. The response she received was far from pleasant. The stall owner responded with a scream, telling her not to return if she found the price too high. She left the stall disappointed and disheartened, vowing not to visit again.
The person who was screamed at said:
This morning I went to this stall to buy Nasi Lemak as my father has been craving for it. As I just moved to this area, I went to Our Tampines Hub Hawker Centre and purchase from this stall. This Economical stall is not economical after all. I ordered takeaway nasi lemak add rice with chicken wing and sussage as ingredients, I was charged a shocking $5.30. 30 cents for the takeover box. I questioned the middle aged lady why was it so expensive? She just screamd at me, and said if you think it is expensive don't come again! This is my first and last time visiting this stall. Please beware of this overcharging and bad attitude auntie. Ahjuma Econ Bee Hoon, 1 Tampines Walk., Our Tampines Hub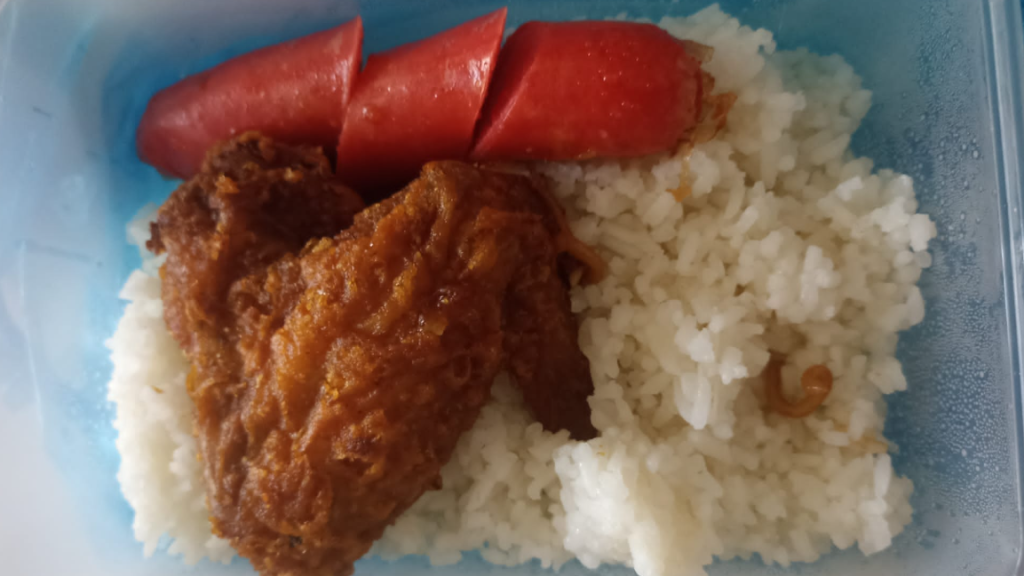 Public Outcry – Social Media's Response
News of this incident quickly spread on social media, with many Singaporeans expressing their shock and disapproval of the stall owner's behavior and the price of the Nasi Lemak. It garnered significant attention and sparked a discussion about the ethics of pricing at hawker stalls.
Investigating the Stall – Is It Overpriced?
To provide a balanced perspective, it's essential to investigate whether the Nasi Lemak was genuinely overpriced. While $5.30 may seem steep for a hawker dish, it's crucial to consider factors such as the quality of ingredients, portion size, and the stall's location. Some hawker stalls use premium ingredients and offer larger servings, which may justify a higher price.