The National Environment Agency (NEA) has issued a statement on Facebook responding to a Facebook post highlighting a woman working at Pasir Ris Central Hawker Centre, not being given a chair.
NEA said that they have looked into the matter and the lady is a safe management personnel engaged to perform VDS checks at entry points.
They said that the personnel are not required to stand all day, and that they are put on shifts with scheduled breaks to make sure they get enough rest.
Here is what NEA said
We are aware of a Facebook post highlighting that a lady working at the Pasir Ris Central Hawker Centre was not provided a chair and supposedly had to stand all day at an entry point.
NEA has looked into the matter. The lady is one of the safe management personnel engaged to perform Vaccination-Differentiated Safe Management Measures (VDS) checks at hawker centre entry points. With the easing of COVID-19 Safe Management Measures (SMMs) from 29 Mar, the temporary fencing at hawker centres and markets have since been removed to provide greater accessibility and convenience for stallholders and patrons. VDS checks at entry points have correspondingly ceased.
Manned entry stations at hawker centres across Singapore have been progressively removed. Personnel involved are also in the process of being redeployed to perform other responsibilities within the hawker centre, such as reminding patrons to don their masks when not eating or drinking, as well as monitoring cleanliness of the premises.
The personnel are not required to stand all day. We understand that the work can be tiring, as it requires staff to be on their feet. Therefore, they are put on shifts and there are scheduled breaks to ensure that they get adequate rest. They have also been informed that they can take short breaks within the hawker centres should they feel tired.
For the case highlighted in the Facebook post, the female personnel is aware that short breaks can be taken within the centre, in addition to scheduled breaks during the shift. We appreciate the hard work of all frontline staff, as well as the concern from members of the public for their well-being.
Do continue to adhere to SMMs and cooperate with the personnel deployed, as we continue transiting towards living with COVID-19. If you see such personnel sitting down, do understand that they are taking necessary breaks, as they work towards providing a safer dining environment for everyone.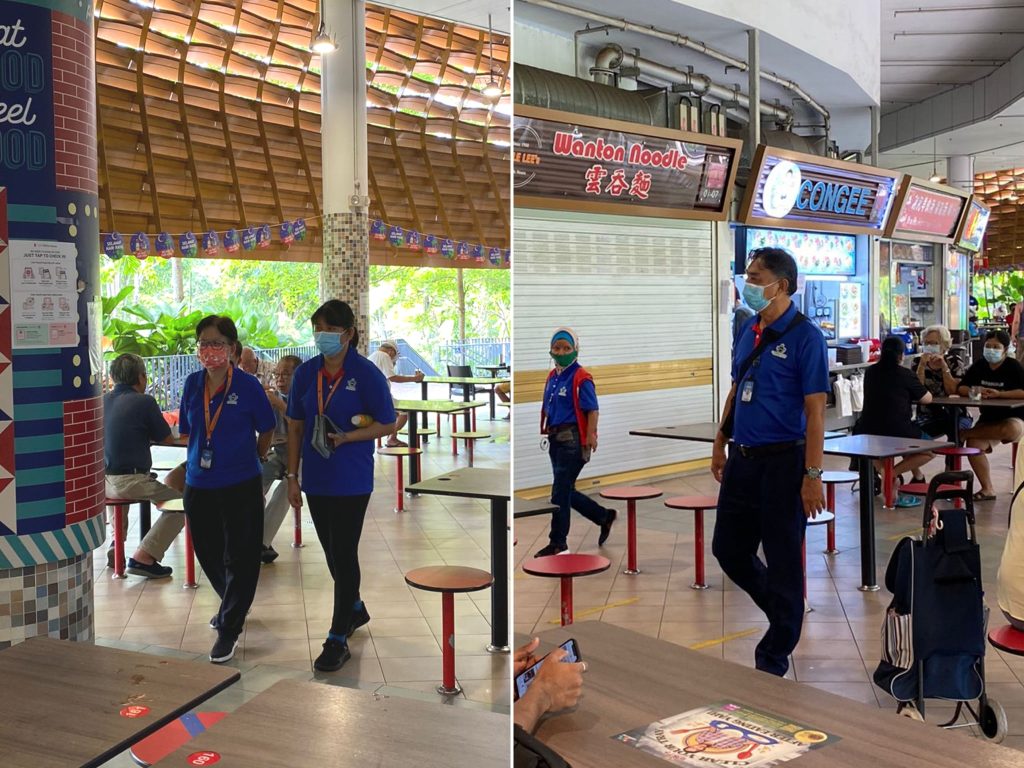 Recap