A netizen took to social media to allege that the review section of Uniqlo Singapore's website page has flaws and it is not accurate.
The netizen had wanted to leave a review on a pants that was purchased some time back to say that the pockets were too shallow which resulted in the netizen losing their keys as it had dropped out from the pocket.
However when the netizen selected one star, the netizen claims that the website did not accept the review and said that there is an error.
The netizen then tried changing to two stars and got the same result.
Afterwards, the netizen tried to change it to five stars and said that the website immediately accepted the review and said that the review is 'pending review'.
Here is the post by the netizen
"I want to highlight to all the Uniqlo Singapore website review is d- kelong. I tried to submit a 1 star review for a pants that I bought.
The pockets were made too shallow and I lost my keys in them. Fell out of the pocket. But the website did no accept the review but say the site is experiencing error. 2 star also the same.
Change to 5 star the website immediately accept and pending review. It's unlikely it will go thru (cos text is still negative).
So don't believe everything you see under review."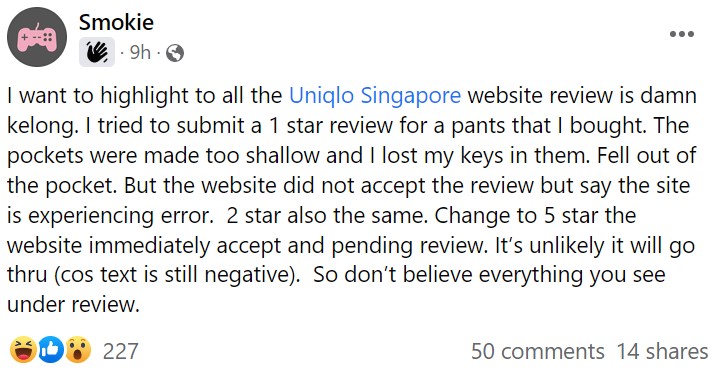 Here are what netizens have to say
All mktg website will show complements but will auto delete bad complaints about their prdts! So sometimes I doubt on reviews shared as bad complaints maybe deleted too
It's funny that ppl lost things and blame it on the design of the item they are using. If it's shallow then don't put things inside. It might be just a design. Like some pants got pattern like pocket but infact u can't use it. It's just a design. Go figure it out. Simple logic. Don't blame on the design but blame it on how the person use it.
Sometimes departmental stores like BHG, OG, Takashimaya, ISETAN, still have it's benefits. Sure they aren't the cheapest, but you can go there and try and ask for recommendations if it's a product category you're not as experienced with.
Image source: Smokie/Facebook, Unsplash.com