Pasir Ris NPC recently posted on their social media page addressing their followers on the recent spike of cases involving people getting caught for smoking of e-cigarettes or in other words vaping.
They shared an encounter by two of their officers who went for their usual patrolling duties and found two subjects behaving suspiciously at a staircase landing.
Both of the subjects had avoided having direct eye contact with the officers which led to them suspecting that something was amiss.
A check was then conducted and one of the men was found to have concealed an e-cigarette under his clothing and the man admitted that he had bought the product online.
Pasir Ris NPC then said that the man was subsequently referred to the Health Sciences Authority (HSA) for further investigations.
E-cigarettes are illegal
Pasir Ris NPC also mentioned in their posting that e-cigarettes are illegal in Singapore and they wish to remind everyone about the law here which does not allow such products if anyone is still ignorant about it.
Praised ICA officers for recent operation
Pasir Ris NPC also praised the Immigration and Checkpoints Authority's recent operations which led to an attempt by smugglers trying to bring e-cigarette products into the country being stopped.
The operation by ICA saw 8,100 e-vaporisers refill pods and 400 e-vaporisers being confiscated by the authorities after a Malaysian registered lorry tried to smuggle them into the country on the pretext of transporting fruits.
The Malaysian lorry driver and his attendant were subsequently arrested and referred to HSA for further investigations.
Here is the post by Pasir Ris NPC
"𝗧𝗮𝗹𝗲𝘀 𝗼𝗳 𝗣𝗮𝘁𝗿𝗼𝗹: 𝗛𝗶𝗱𝗶𝗻𝗴 𝗦𝗼𝗺𝗲𝘁𝗵𝗶𝗻𝗴?

We're seeing a rise in the number of people getting caught with e-cigarettes. Recently, our officers were patrolling and checked on 2 subjects behaving suspiciously at a quiet stairwell.

They avoided eye contact but our eagle-eyed officers noticed one of them trying to subtly hide something underneath his clothing. Lo and behold, it was an e-cigarette (which he admitted to buying online)! Needless to say, the e-cigarette owner will have to answer to our friends at HSA.

For those who still don't know, 𝗲-𝗰𝗶𝗴𝗮𝗿𝗲𝘁𝘁𝗲𝘀 𝗮𝗿𝗲 𝗶𝗹𝗹𝗲𝗴𝗮𝗹 𝗵𝗲𝗿𝗲! Fellow law enforcers at Immigration & Checkpoints Authority recently foiled an attempt to smuggle them into the country. Kudos! 👏

You can read more about it here – https://m.facebook.com/story.php?story_fbid=234102535577540&id=100069333844429″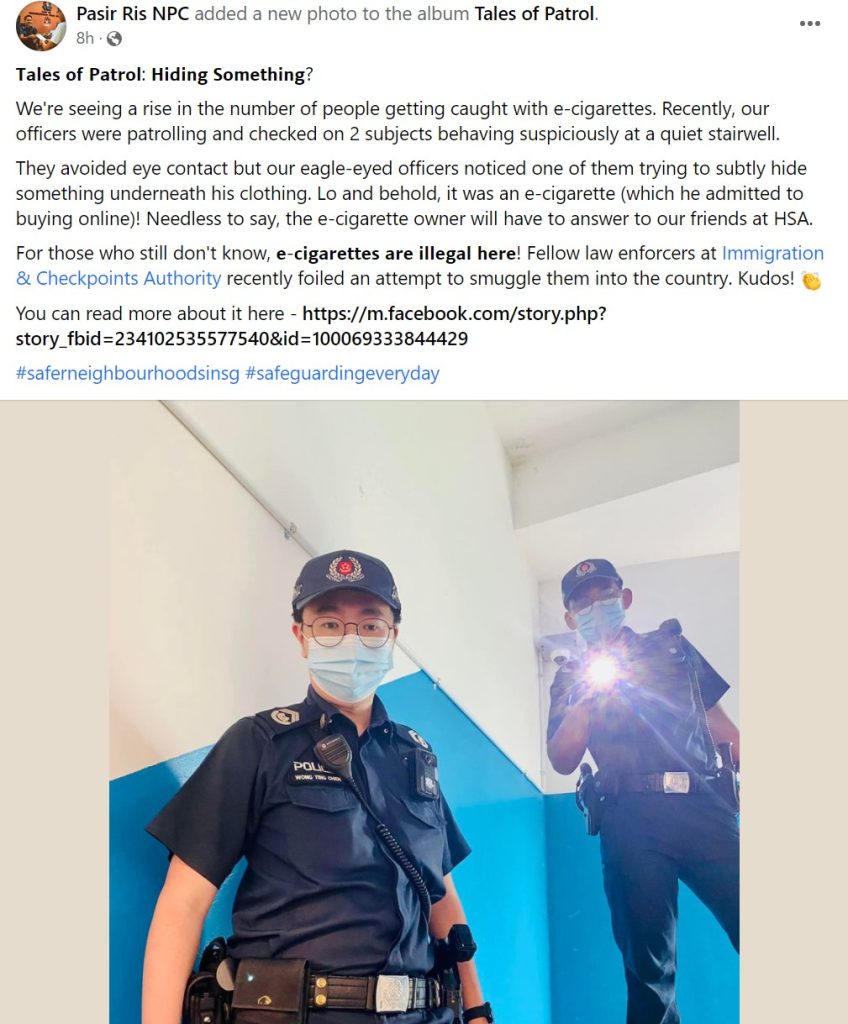 Image source: Pasir Ris NPC/Facebook, Unsplash.com
Related