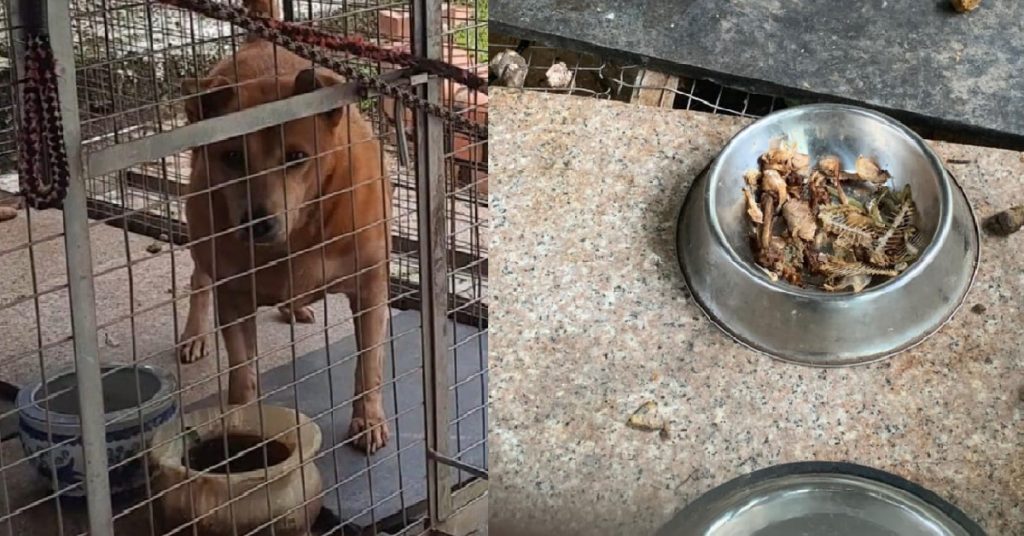 A netizen shared how she spotted a dog being locked up inside small cage at a temple in Jurong.
She shared how the dog was living in deplorable conditions, being inside a cage with less than a 3-tile space for it to walk about.
The dog was also allegedly fed with leftover human food filled with bones, and its cage was filled with dried up poop and a bowl of water filled with algae.
Here is the story:
"[ CRUELTY IN A TEMPLE ]
It was difficult to stare into her eyes and see loneliness, desperation and finally the disappointment when I had to walk away from this sweet dog earlier this afternoon.
This nameless dog was born without freedom because the cruel person who took her to this temple as a puppy simply threw her into a lifetime imprisonment, and for so many years, this temple kept their dogs in terrible conditions.
Besides having a feedback provider who witnessed first-hand how this dog has suffered in the cage since she was a puppy, I made a few visits recently and every single time, the cage was filled with dried-up poop, algae-filled water bowl and leftover human food filled with bones!
Her living condition is even more deploring. She only has 3 tile space to walk, sleep, eat and poop. And rats are often seen running around, putting this dog at risk of rodent poison. As if this was not mean enough, to my horror, I had to witness a fumigation session taking place and the poor dog was engulfed in the poisonous smoke! Apparently, this happens every single month when the temple is being fumigated.
Today, I couldn't take it anymore. I decided to ask the temple to allow me to re-home this poor dog and they rejected me with a flat NO. It is completely beyond my comprehension why a temple would rather see her suffer in captivity than to accept help from others. Afterall, the dog means nothing to them, so why not let someone who cares take the dog?
This is terribly disturbing and heartbreaking, especially when it's happening on a supposed religious ground. I am a Buddhist since birth, and growing up, my Buddhism teachings circled around kindness, compassion, gratitude and karma. But more than religion, aren't these considered universal language? Why are these people so cruel to ignore the sufferings of the animals? Don't they understand that animals are sentient beings too? They can sense fear, pain and loneliness, just like all of us.
If you can spare some time, drop by the temple and take a look at her deplorable living conditions and judge for yourselves. It is a heartbreaking scene I'll never forget, and I go to bed every night feeling helpless that I alone can't do anything to save her.
I requested for the chairman to call me to speak about the dog's situation and how I can perhaps help, but he didn't bother reaching out at all. I was simply rejected by the admin staff, citing stupid reasons like how the board of association has ancestral beliefs and values as to why the dog has to be treated this way. What could they be? In my thirty-odd years of being a Buddhist, I would honestly like to learn what sort of beliefs these could be.
But more than that, I need everyone's help here. I want the temple to give an answer on why they are treating this dog so cruelly. Please help to:
1. Share my post to raise awareness
2. Report to Avs
3. Tag the temple and appeal to their management
4. Tag whatever medias you can.
Let's do whatever we can to help this innocent dog regain her freedom! She has wasted half her life being in captivity for nothing, and she deserves a new lease of life."
FULL VIDEOS LOADING…
Images and videos source: Melody Yap on Facebook