The Singapore Food Agency (SFA) was informed by The Arnott's Group that they have detected spoilage due to a manufacturing error in a batch of imported Prego Carbonara Mushroom Pasta Sauce (665g) and should not be consumed.
The affected batch may exhibit signs of spoilage which include unpleasant smell, unusual colour, watery appearance and separated layers of liquid.
SFA has directed the importer, Campbell Soup Southeast Asia Sdn. Bhd. (Singapore Branch), to recall the implicated product. The recall is ongoing.
Under the Sale of Food Act, foods that are known to be unsuitable for consumption should not be sold. Consumers who have purchased the implicated products should not consume it. Those who have consumed the products and are unwell should seek medical attention. Consumers may contact their point of purchase for enquiries.
Details of the product are as follows:
Product name: Prego Carbonara Mushroom Pasta Sauce (665g)
Lot No.: 2022081716
Country of Origin: Malaysia
Production Date: 17.08.2022 Expiry Date: 17.08.2023 Impacted Time code on the cap: 22:18 to 23:20
*Only products produced on 17.08.2022 between timings of 22:18 to 23:20 are affected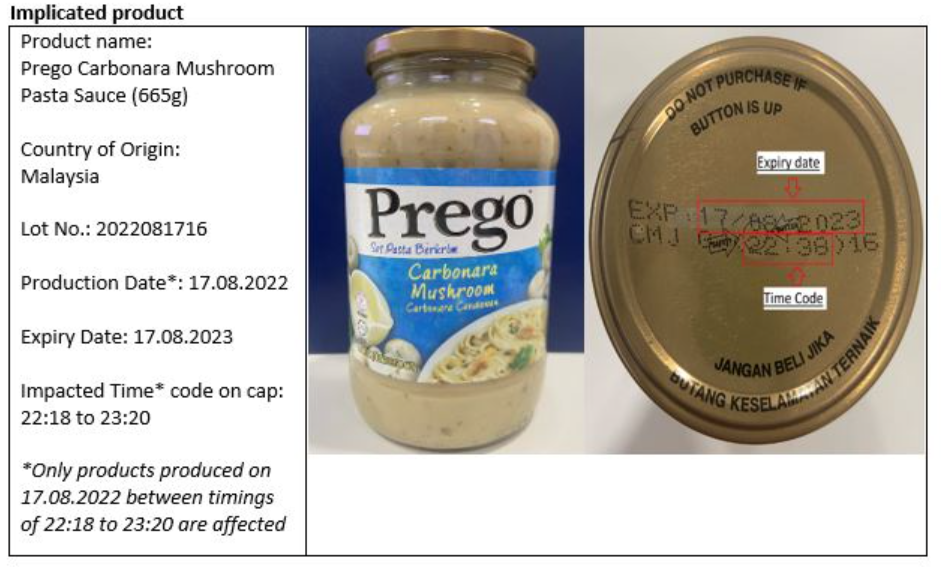 What happens if you consumed spoiled food:
Consuming spoilage food can have serious health consequences, as the food may contain harmful bacteria, toxins, or other contaminants that can cause illness.
When food spoils, it can develop a range of unpleasant odors, textures, and appearances, which are often indicative of the presence of bacteria or other microorganisms. These microorganisms can multiply rapidly in the right conditions, and can produce toxins that can cause illness when ingested.
Symptoms of food poisoning, which is often caused by consuming spoilage food, can vary depending on the specific microorganism or toxin involved. Common symptoms include nausea, vomiting, diarrhea, abdominal pain, fever, and headache. These symptoms can range from mild to severe, and in some cases, can be life-threatening.