A video emerged online by TikTok page @gongsimisg, showing WP boss and Leader of the Opposition Pritam Singh appearing to storm off during his fellow MP He Ting Ru's speech in parliament, relating to Section 377A.
Singh has since responded to the false claims against him and clarified the misjudgement by netizens, addressing the video that was edited to make it look like he was "storming off angrily".
The video also highlighted the reactions of the PAP MPs' reaction to him abruptly leaving his seat and walking out of the parliament chambers.
Was going for a toilet break
Singh replied to a comment on his Facebook post, where a netizen asked him about the incident about him "leaving the chambers in a huff".
Singh replied that he was going for a "toilet break," and he also explained that the loud thump that was heard in the video, was him hitting his armrest in approval of He Ting Ru's speech.
He added that MP Jessica Tan was also startled by the thumping, and that he apologised to her after she told him about it.
The Tiktok video was also edited to cut out the part where Singh gave a thumbs up to He's speech before walking away from the camera.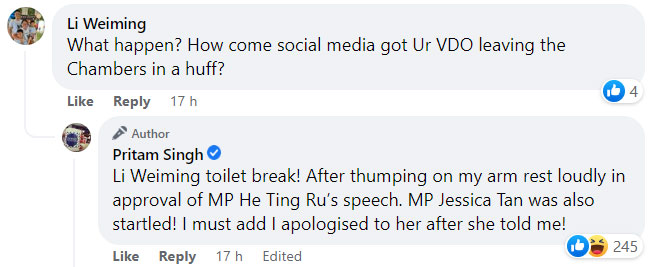 FULL VIDEO LOADING…