An Ukrainian Ambassador to the United Nations, Sergiy Kyslytsya, was reading the last words of a fallen Russian soldier to his mother via text messages in front of the United Nations General Assembly on 28 Feb 2022.
In his speech to the United Nations General Assembly, Kyslytsya mentioned that the soldier was killed right after sending the texts to his mother.
He did not reveal how he had gotten the messages but was reading them from a printout of a screenshot from the fallen soldier's phone.
Here is the screenshot of the message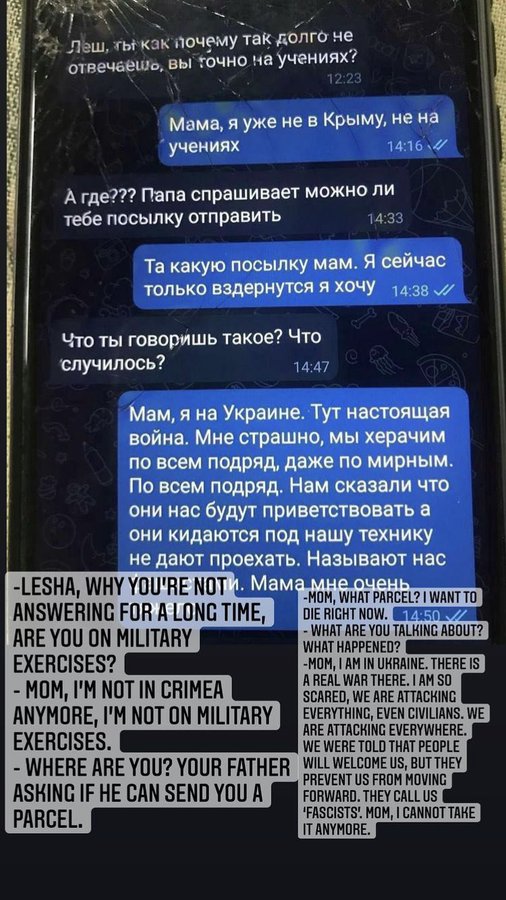 Meaning of the text messages
Kyslytsya had presented his speech to the United Nations General Assembly in English but when it came to reading the text messages, he proceeded to read them in Russian.
Here is a rough translation of what the texts meant:
"Mother: Why have you not replied for so long? Are you really in training exercises?
Son: Mama, I'm no longer in Crimea. It is not longer training right now.
Mother: Where are you then? Dad is asking if we can send parcels to you.
Son: What kind of parcel can you send me Mama?
Mother: What are you talking about? What happened?
Son: Mama, I'm in Ukraine. There is a real war ongoing here and I am scared. We are bombing all of the cities at once, even not letting civilians off. We were told that the civilians would welcome our presence, but they are falling under our armored vehicles, throwing themselves under the wheels, and not allowing us to pass. They call us fascists. Mama, this is so hard."
Messages released by authorities in Ukraine
Ukrainian authorities had released the screenshot of the final texts between the Russian soldier and his mother.
It was published by the Secret Service of Ukraine.
Ukrainian authorities have first talked about these young Russian soldiers who are involved in this invasion being ill equipped and young and might not even know what they have got themselves into.
Image and video source: Reddit, Twitter/@Breaking911, Unsplash.com