The Dota 2 world championship tournament, The International 11 (TI11) is set to be held in Singapore from 30 October to 30 October, and it will see the top 16 teams in the world competing in the competition.
Tickets for the single day of the Playoff rounds, which will be held at Suntec, are priced at $88; while the tickets for the Grand Finals at the Singapore Indoor Stadium, are priced at $498 for two days.
However, the tickets were apparently sold out within an hour of the tickets going live, presumably because of scalpers scooping up the tickets.
The scalpers then took to Carousell to sell their tickets, marking the prices up to almost 11 times the original price, with one scalper even selling it for $5,500.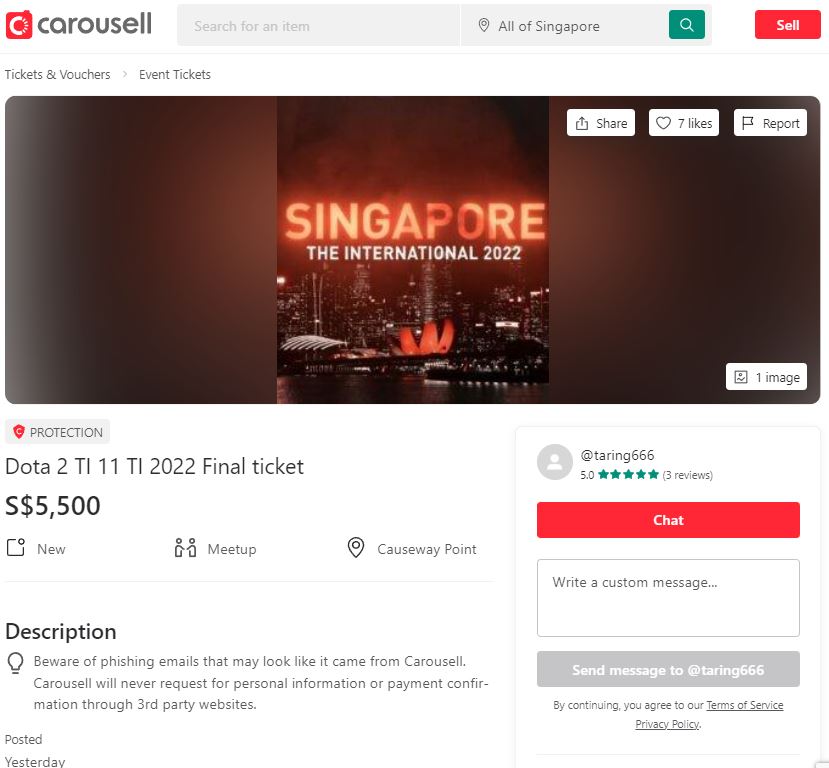 Netizens' response to scalpers
I didn't get tickets to TI.
Like many of you posting here, I couldn't get tickets to TI. I woke up really early, opened up the ticketmaster website first thing and got into queue. Made myself some coffee while I waited. So damn excited. I was sure I'd be able to get them because I had heard good things about the queue system last time and how it was designed to be fair.
When its my turn, the page opens up and I see the first four days are already sold out. No problem, I'd be happy to get tickets just to the finals only. I click to pick my seat and just in that little time, those are sold out as well. I can't believe it.
I was willing to put in the $850~ for all 6 days of the event. That is not a small amount of money for me. In fact, it's almost equal to my one month's salary. Add the cost of plane tickets and staying there for almost 2 weeks, that comes out to more than double of that. So even though it's a lot, I had saved up because it would have been my first TI.
I'd been struggling financially for the last several years, so not like I ever had the chance to go to a TI in an EU country before. But now that TI is taking place in a SEA country, and I'm doing better money wise, I had the courage to dream. I had a dream, and it was crushed within minutes.
Sorry to sound so melodramatic, but this was a big deal to me. I've only travelled outside my country once before, and this would have been my first time travelling solo. Dota 2 is such a big part of my life, and going to TI is top of my bucket list.
Guess it's staying on that list for a bit longer.