Dear Sir/Madam;
I'm writing in to share awareness and prevent further victims on being conned a serial renovation conman.
He runs a sole proprietor. He claims to be from Livspace and under a partnership (Refer to Pic 10 in this email), and had issued a Quotation "stating" Livspace/Interiortech Pte Ltd (henceforth cc-ing RCMA and Livspace in this email for further clarifications).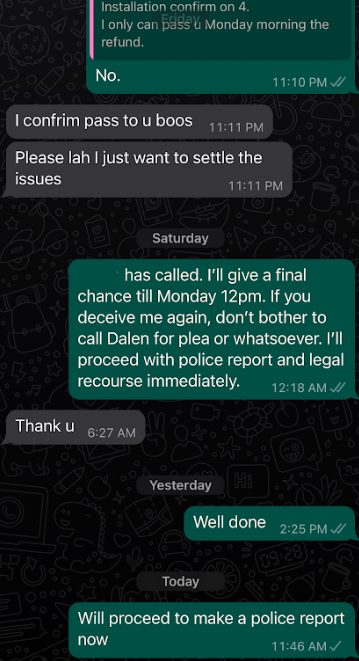 J was engaged to provide renovation work for our flat at Pasir Ris during last year October 2022, and he had on the pretext of commencing renovation work, collected a total of nearly SG$48,000.00 in November and December 2022 from my old aged mother of 64 years old, and promised a handover before Christmas 2022.
However, little work has been done, J had cooked up stories and lies, promising to complete the renovation on serval occasions, however up till present nothing has been done, and he has subsequently went missing with one tick on Whatsapp (Refer Pic 9 in this email). We visited his registered address and realised he does not live there.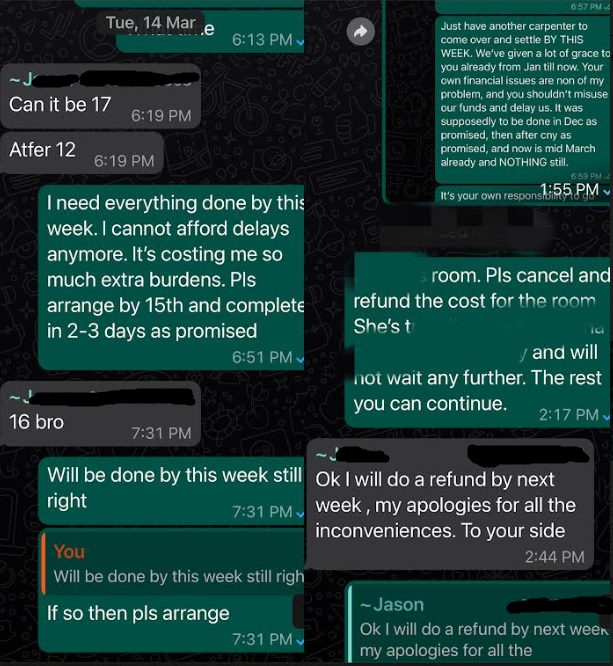 We had since lodged a police report, and also found out that J had scammed others as well, as other police reports were filed. However, I do not have direct accesses to those people. I've also found out that J was previously convicted of similar renovation scams, and had served jail time as a result.
My mom is an average and simple old lady, 64 years old, who has worked hard her entire lifetime with a simple dream to renovate and have her dream home. However, she had fallen prey to J and we are now left in lurch with a 1/4 renovated flat and a whole mess to clear up. We wish that through creating stronger awareness, we can prevent more victims from falling prey into J and similar renovation scams. 
Lastly, I've attached all the information in this email for your perusal.
Please feel free to email or contact me for further clarifications.
Best Regards,