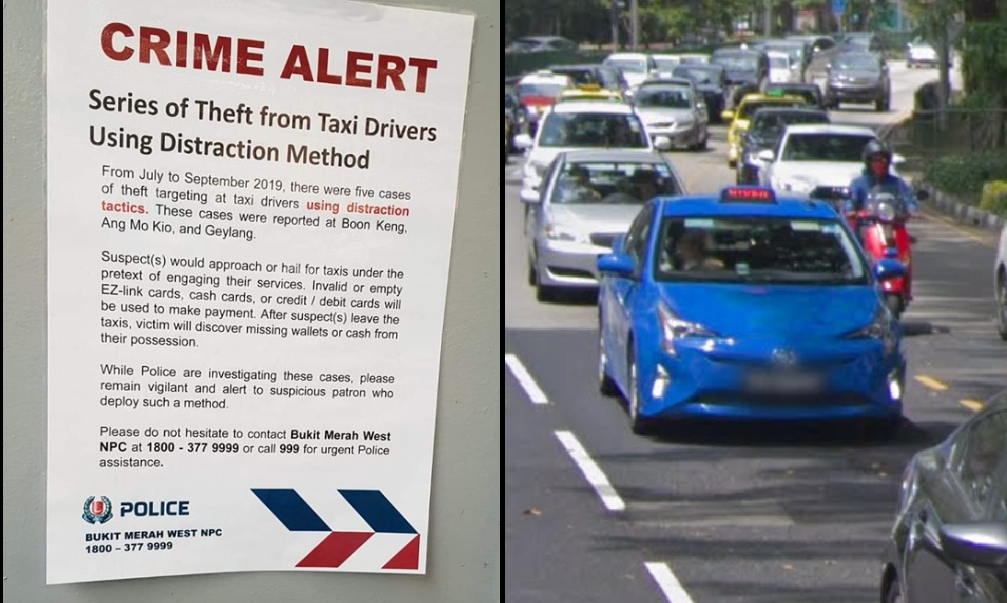 The Police have put up notices in public warning taxi drivers of theft using distraction methods. Cases of taxi drivers distracted and items going missing were reported at Boon Keng, Ang Mo Kio & Geylang.
The following are text from the poster.
CRIME ALERT
Series of Theft from Taxi Drivers Using Distraction Method
From July to September 2019. there were five cases of theft targeting at taxi drivers using distraction tactics.
These cases were reported at Boon Keng, Ang Mo Kio, and Geylang. Suspect(s) would approach or hail for taxis under the pretext of engaging their services. Invalid or empty EZ-link cards, cash cards, or credit/debit cards will be used to make payment. After suspect(s) leave the taxis, the victim will discover missing wallets or cash from their possession.

While Police are investigating these cases, please remain vigilant and alert to suspicious patron who deploys such a method.
Please do not hesitate to contact Bukit Marsh West NPC at 1800 – 377 9999 or call 999 for urgent Police assistance.