The Singapore Police Force (SPF) has just issued an advisory on phishing emails circulating around asking for payments for alleged violation of traffic rules.
The phishing emails are sent from the 'Department of Motor Vehicles' with the email address of '[email protected]'.
These emails will often mention that the recipient has violated a traffic rule and is expected to pay the composition amount within 72 hours of receiving the notice through the EasyPay platform.
The SPF will like to inform the public that the email domain used to send the phishing email is not from the Traffic Police and the Traffic Police will also not request for payment via the EasyPay platform.
They also warned the public not to click any links on the emails or make any payments from the links provided.
Here is the advisory from the SPF
"𝗣𝗢𝗟𝗜𝗖𝗘 𝗔𝗗𝗩𝗜𝗦𝗢𝗥𝗬 𝗢𝗡 𝗣𝗛𝗜𝗦𝗛𝗜𝗡𝗚 𝗘𝗠𝗔𝗜𝗟 𝗥𝗘𝗤𝗨𝗘𝗦𝗧𝗜𝗡𝗚 𝗙𝗢𝗥 𝗣𝗔𝗬𝗠𝗘𝗡𝗧 𝗢𝗡 𝗧𝗥𝗔𝗙𝗙𝗜𝗖 𝗩𝗜𝗢𝗟𝗔𝗧𝗜𝗢𝗡

The Police are aware of an email being circulated, where scammers allege that recipients have violated a traffic offence, and have requested for a payment to be made within 72 hours through the platform, EasyPay Center.

Recipients were directed to click on a phishing link in the email to make payment.

The Police would like to clarify that this is a phishing email and that the email domain does not belong to the Traffic Police.

The Traffic Police will also not request for any payment through EasyPay.

Do not click on the links within the email and do not make any payments via the link provided.
#sgscamalert
#spreadthewordonscams"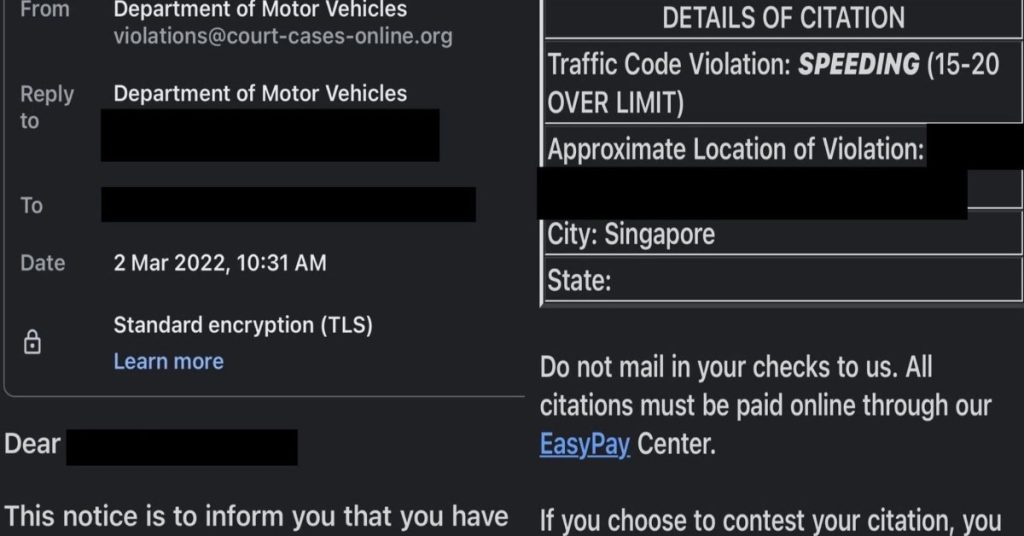 Image source: Singapore Police Force/Facebook, Unsplash.com