A man in Singapore used the artificial intelligence (AI) chatbot ChatGPT to generate TOTO numbers for him and he went ahead to bet on those numbers and ended up really winning money.
Facebook user Aaron Tan posted on his TikTok page sharing how he had asked ChatGPT to generate a series of random numbers for him.
He asked the chatbot to "please give me 7 numbers from 1 to 49" to which the AI then replied with "12, 21, 28, 36, 42, 44 and 47."
Tan when went ahead and bought those numbers for the TOTO draw on 4 May and he ended up getting 3 of his numbers correct, with the winning numbers being 16, 21, 25, 28, 37 and 44, with an additional number of 24.
Tan got 21, 28 and 44 correct.
Tan revealed via the comments when a netizen asked him how much he had won, and he said that he won $50 from his TOTO bet.
He thanked the AI for helping him strike TOTO and called it his Cai Shen Ye (the God of Fortune), as he shared his winning TOTO ticket that he bought via System 7 for a price of $7.
For a System 7 bet, he would've won $40 for getting 3 numbers correct, meaning he must've presumably placed another Ordinary bet with the same numbers to win the other $10.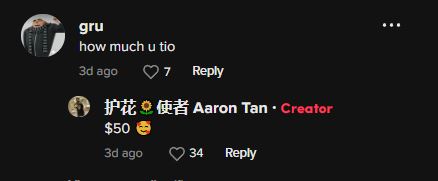 Netizens' comments
they probably pick the winning numbers with chatgpt too
Power! Next time all use. 1 Mil prize share between 1 Mil people.
The more you buy the more you lost . You cannot gamble outside they will catch you but they can be the master mind of gambling instead..
but imagined how much money he had already invested to get this result of winning $50..
Wow, ChatPGT is a Fortune Teller, don't have to go around temples for …….
Accrue all past loses & wins. What's the P/L till date?