Taiwan's Central Meteorological Administration stated that an earthquake with a magnitude of 6.4 occurred in Taitung County at 9:41 p.m. today (17th) , with a depth of 7.3 The epicenter was located 35.8 kilometers north of Taitung County.
According to information from the Central Meteorological Bureau of Taiwan, an earthquake of magnitude 6.4 occurred at 9:41 p.m. yesterday evening. Pingtung County, Chiayi City Level 4; Changhua County, Taichung City, Miaoli County, Yilan County, Hsinchu County, New Taipei City Level 3; Penghu County, Taoyuan City, Taipei City Level 2; Keelung City Level 1.
The tremors could be felt in almost all parts of Taiwan.
Taitung County Mayor April Yao wrote on her Facebook page that the quake was "very strong", while Central News Agency showed a photo of a Taitung store bottle shaking off a shelf.
Taiwan's fire department said it had not received any reports of damage. State-run utility Taipower said there was no interruption in power supply on Taiwan's east coast.
The Taiwan Meteorological Bureau said the quake could be felt across Taiwan. Buildings in Taipei shook briefly.
Google reports that the earthquake hit a magnitude of 6.5.
A heat map was updated on Google maps and it appears that Taipei was the least affected by the earthquake among major cities.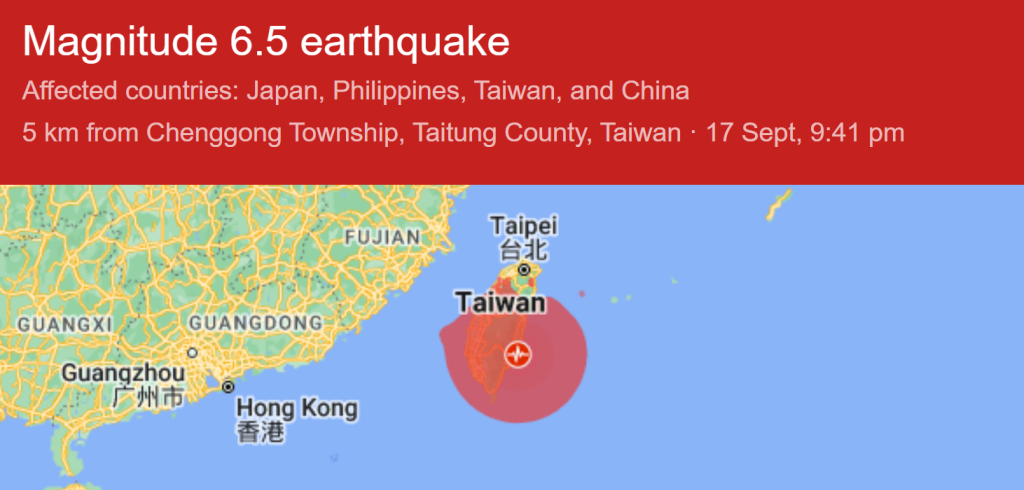 Netizens upload videos of the earthquake
A netizen took a video during the earthquake and household items could be seen falling off. Items from departmental stalls have also fallen off and wrecked a mess in shops.
Those who were outside during the earthquake said that they are worried and did not dare go back indoors.
Worrying that the building might collapse.