A woman who claimed to be a "nationalist" drew flak for her post on LinkedIn where she said "HDB People" shouldn't take jobs in private residential area and limit contact with her because she would lose her "unique identity", has been drawing flak from online netizens.
Among those who are calling her out for her self entitled attitude is Singaporean actor Tay Ping Hui, who called the woman "delusional" and asked "what i this woman smoking?"
Here is what she said
It's very hard for me to live in Singapore because the govt allows HDB people to take jobs in private residential areas. Which means they don't just visit, they remain for about 6-8hours a day. And that's a lot. So it is necessary to limit contact with them less I lose #uniqueidentity as most of them have. But they did it by choice, most of them.
It is time to accept, for the large part, HDB people and private residence people are very different because of our outlook on community building.
Private residence, we build according to values and mindset, we ignore race, language and religion and prioritise mental acuity and emotional stability. We don't wait to live life, we live now. We show our values and our humanity in how we work, play and hire.
In HDB, it is simply about networks and rules that the govt can give them, and they sit and wait for those, and until then they group according to age, race and marital status. It tells us nothing of their values nor their humanity. They are about money, not values.
Happiness is not about humanity. Humanity is about humanity.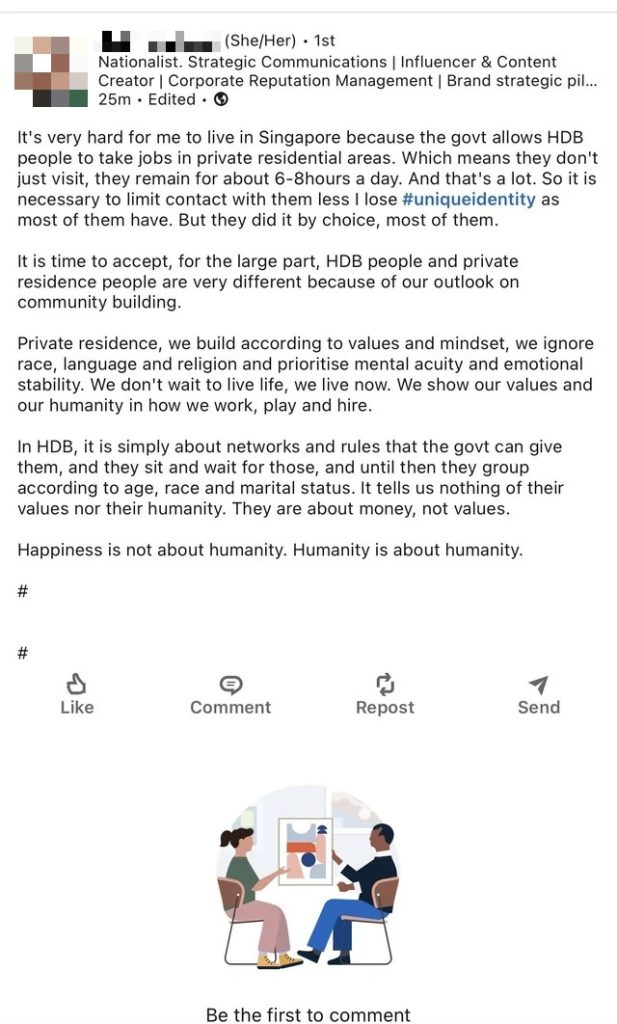 Tay Ping Hui not happy
I couldn't believe my eyes.
A self-proclaimed Nationalist in "Strategic Communication" would actually think it is ok to write such a delusional post reeking with ultra low level thinking.
What exactly is "HDB people"? Is Ms. Kaur categorizing those living in public housing a lower class than those who live in private housing? Perhaps my English needs improvement because I simply cannot comprehend the layers of flawed logic as she pontificates upon the supposed differences between the two groups and how it affects her " Unique identity". I never knew that things like ignorance, arrogance, egoism and small mindedness were considered unique.
And OMG, that final nail in the coffin, "Happiness is not about humanity. Humanity is humanity" is akin to saying "Bak Gua is not about bananas. Bananas are bananas" like whatttttt? Seriously man, what is this woman smoking?
If living in Singapore is so hard because the plebeians' existence in her neighborhood offends her elitist sensibilities,then perhaps she can consider taking the next flight out and don't come back.