A video emerged online showing a woman coughing inside the MRT, before she got shouted at by an elderly man for doing so.
The incident happened inside the MRT en route to Ang Mo Kio MRT Station at about 12.45pm on 30 July.
The woman was coughing and it enraged the old man, and the woman was seen trying to explain to the old man that she "got take medicine".
The old man then retorted "ya but don't be- don't be in the train! YOU ARE SPREADING THE DISEASE TO EVERYONE!"
The woman then responded: "I never wear mask meh?"
The uncle then replied: "You wear a mask but you are coughing, spreading-" *video cuts off*
Netizens' comments
Uncle shall we booked the whole train for you, then you can shout all you want..knn
If u worried, just walk away. I have dry throat,I cough easily. I try not to cough in public transport but it's difficult to hold back my cough.
She just make two cough and the old man just screamed at her.. poor mommy
Uncle..if you can't be in the crowd..take taxi mah… problem solve..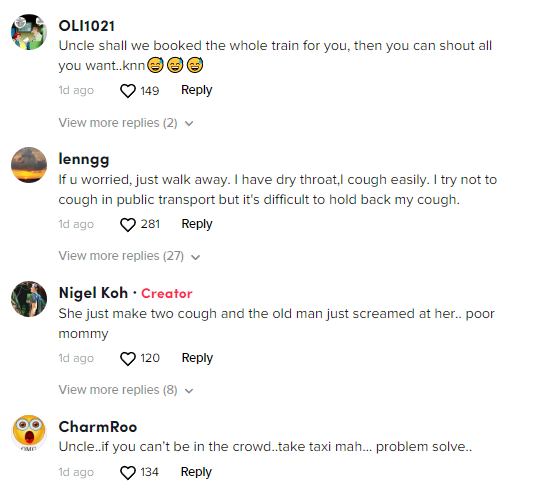 FULL VIDEO LOADING…