Following reports of a tree that fell near the Ulu Pandan Community Centre and injured three people, the three victims have since been reported to be in stable condition, with one of them already being discharged.
MP for Holland-Bukit Timah GRC, Christopher de Souza, said in a Facebook update yesterday that he had paid a visit to one of the victims who was discharged on Saturday.
Here is what he said
Made a personal visit this afternoon to the home of Mr Neo, an Ulu Pandan resident, who was thankfully discharged from hospital yesterday following his rescue from under the fallen tree.
I am greatly relieved he is alright and wants to get back running along the rail corridor as soon as possible – he has such an amazingly positive and optimistic attitude.
I have been kept regularly updated on the health and condition of the other two persons who are still in hospital. They are not residents of Ulu Pandan.
I am very thankful that they are in stable condition and recovering. I had wanted to visit them today but the hospital suggested a zoom session tomorrow instead due to SMM measures in hospital and, further, that they needed the Sunday to rest a bit more.
I can completely understand and will call them via zoom tomorrow.
This experience is a key learning point and I will chair a meeting early this week to learn how we can learn from it and put in measures to reduce the risk of repeats – such as ensuring the health of trees within our CC compound and studying the increased availability of access points for ambulances along the rail corridor.
Please be assured of my personal attention to this matter.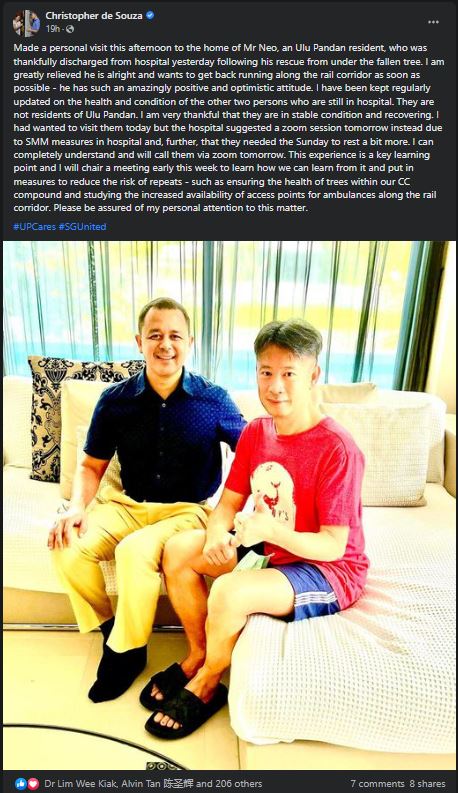 Recap
A tree had reportedly fallen at Ulu Pandan Community Centre yesterday, pinning two people under the tree while another victim was found injured nearby.
All three victims were conscious when sent to the hospital and are in stable condition, according to Channel NewsAsia.
The SCDF said that they were alerted to the unfortunate incident at about 6pm, at 170 Ghim Moh Road.
Officers from the Disaster Assistance and Rescue Team were deployed and they had to lower themselves down a slope and went through the vegetation in order to reach the victims.
Two persons were found trapped under the large tree, with another person found injured nearby.
SCDF officers immediately began rescuing the victims after ensuring the fallen tree was stable and used cutting equipment to reach the two that were trapped.
Medical personnel were also on-site to monitor the victims' vital signs, and K9 search dogs were also deployed to make sure there weren't any other trapped victims nearby.
The incident is currently being investigated by Ulu Pandan Community Club, who is working to establish the facts of the incident.
FULL VIDEO LOADING…
Images source: @afy.suave2 on TikTok, Google Maps and Christopher de Souza on Facebook