A man posted a series of messages between him and a Vietnamese girl and stated how the girl is overstaying in Singapore to work in a KTV.
He stated that the girl is withholding his child's passport and getting into his way of applying for relevant visas for the child to stay in Singapore.
He also stated that the Vietnamese girl is currently overstaying in Singapore and working in a KTV.
Here is what he said:
WHAT A JOKE
Another fake post by Hailey's mother…
Still trying to pretend she is the one taking care of Hailey and staying with Hailey.
Truth: Hailey has not met Phuong for more than a year and has regarded Phuong as a total stranger.
This is a screen photo grab from my Facebook post.
Phuong has no idea where Hailey is even studying.
And Hailey has even changed School since two months ago. And Phuong is still posting this stupid photo to try to portray herself as a loving mother to Hailey. What a joke
Hailey is not even studying at this school
Update: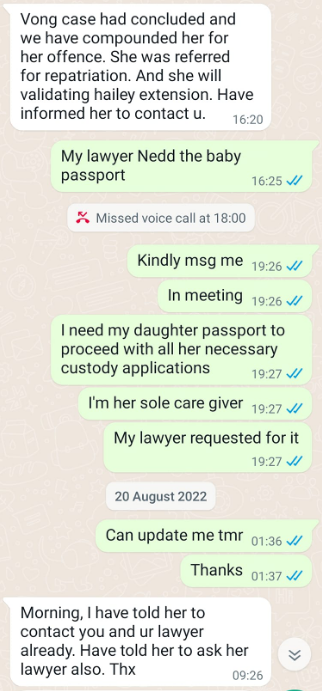 Hailey's passport is still withheld by Phuong, which caused alot of inconvenience for Hailey with regards to her registration and application for Hailey's Singapore citizenship.
PHUONG had repeatedly ignored my lawyers messages and contact in our WhatsApp group message.
PHUONG is merely using Hailey's passport to delay her own deportation by ICA because ICA has investigated and concluded Phuong case of working as a "prostitute" and "booking girl" in Singapore.
(I have plenty of evidence to show e.g booking confirmation and msg between her, the client and the mummy)
Have alrdy submitted all these to ICA.
PHUONG will be deported soon. She is desperate now because she knows if she returns to Vietnam, she has no job and selling her serial services in Ho Chi Minh is tough coz people know her there, family and friends.
Final note:
A real mother who truly cares about her child will find all ways and means to contact and be with her child..
In this more than one year…Phuong has not even made the effort to locate and find Hailey. Just merely texting and asking to let her meet.
She also tried on more than one occasion report police to say I kidnap Hailey..
Police and family services officers called and I gladly invited them to come to visit and observe for themselves the living conditions and quality of life that I'm providing for Hailey and they left satisfied and know that Phuong has been lying.
This is the reason why Phuong will be deported, and she has no more reason to stay in Singapore (she has overstayed for more than a year, using Hailey's "disappearance" as the sole reason for her delayed stay in Singapore).
A real mother who has her child's vest interest at heart, will also know that a child has more benefits holding dual citizenship, a Singapore passport and a Vietnamese passport, and will not stop and create obstructive efforts to prevent me from helping Hailey apply for her Singapore citizenship.
A real mother truly cares for her child, also will not want Hailey to go back to stay with her in her hometown village to grow up with chicken and hens and jackfruit trees without a proper education and privileged environment…
If anyone kind soul wants to help report her and help Hailey get back her passport asap…she is working at places like *redacted* and doing freelance Booking services…feel free to make police reports to catch Phuong who is trying to evade all messages from my lawyer and myself.
Anyone who knows me knows that I have been taking care of Hailey by myself for more than a year since Hailey was in Singapore. And also thanks to great friends like 黄佩仪 who at times help me to babysit Hailey at her own home with her family and maid when I go overseas for work.
This is all i have to say to clarify any untruths or false posts and articles made by Phuong, because if I don't clarify this, people easily believe stuff posts online over time….
If anyone can help me to get her to contact my lawyers and hand over Hailey's passport…would deeply appreciate. I have been patient and nice to her over this issue coz she is Hailey's mother. But seems like being nice to assholes and self centred bitches is actually being cruel to Hailey and myself.
JUST ALSO TO SHOW YOU THE ICA's Immigration & Checkpoints Authority LACK OF EFFICIENCY AND "TAIJI" SKILLS OF PUSHING AWAY RESPONSIBILITIES, look at the screenshots of the message exchanges with the ICA officer incharge of the case below (Nicholas).
Excuses after excuses….and anyway he has confirmed in his messages that Vong Vinh Phong has been compounded for her offence and will be repatriated or deported back to Vietnam. That is the reason why this bitch is desperate now and at her wits end and decided to post this post on her Facebook today to garner more pity and empathy votes for herself.
Immigration & Checkpoints Authority Singapore kindly update on this situation before it gets out of hand. Your staff and employees are shirking their job and duties within departments, and shielding a criminal offender despite already confirming and convicting her of her offence.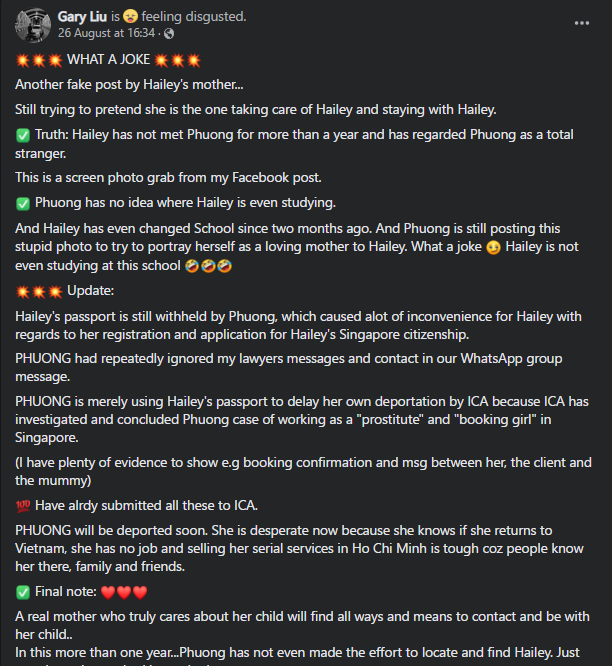 Source: Gary Liu