Following the incident where a boss cancelled an interview after the interviewee requested for it to be virtual he shamed the interviewee online by posting a screenshot of the Whatsapp messages which included the interviewee's name.
The employer has since posted another Facebook post for "clarifications".
The post posted by the employer received a huge backlash from netizens and many people have been making extremely negative comments on the employer's Google review.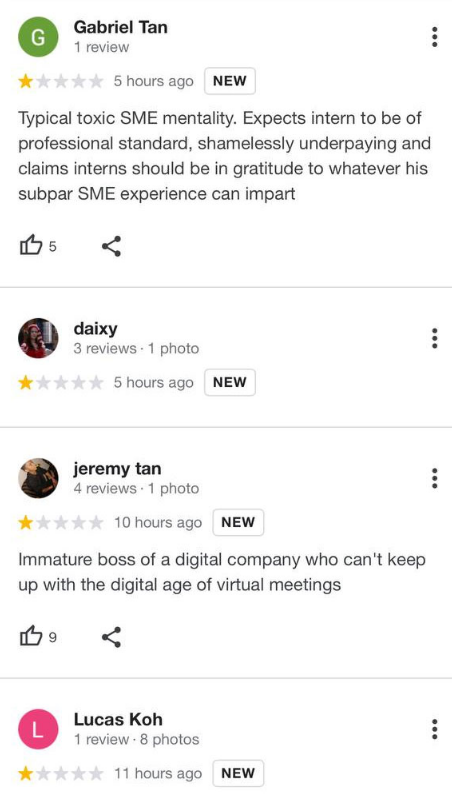 Here is what the employer said:
Now that I've gotten everyone's attention, it's time for some clarifications.
I've been running my own little agency for the past 21 years. Over the past decades, I've hired Singaporeans whenever I can.
I've taken in interns from local institutions. Not because they're cheap labour but more to give them a taste of what the real world is like and hopefully allow them to make an informed decision when they graduate on whether this is the right career for them. Most have been lovely people to work with.
This year, I've taken in 2 interns, from different institutions. Again both Singaporeans btw. Something is seriously wrong when Year 3 design students come in for internships and barely know how to use Photoshop or Illustrator. These interns go for 1.5-hour lunches, oversleep when they work from home and don't give a damn about deadlines. It's maddening and frustrating when you see the lack of hunger vs the can-do attitude of the foreign students I came across when I was teaching part-time.
Back to Sarah. She actually emailed me sometime late June about her official internship starting 12 Sep. Think I replied 1 or 2 weeks later but received no reply. So thought she's either not keen or may have found another company. Move on.
Suddenly received an email from her on Thursday morning asking if we're still taking in interns. Found it puzzling and called her in the evening. She said the internship company is having some legal issues and she finds the culture toxic and is not for her. I was like huh, after one day? Nonetheless, asked if she wanted to come in on Friday for a chat. She said yes and told her I'll text her my address. 19 mins later, she asked for a virtual interview. I admit I got angry and frustrated that no reason was given whatsoever and decided that I shouldn't bother anymore.
I certainly wasn't expecting the uproar over this, and being infamous is not on my to-do list. I'll apologise for wasting everyone's time if this thing has been taken out of context. Life is short. There are many other more important things to worry about. Like how to make sure the other interns coming in learn what is right.
And for those who're worried that I'll do something stupid, don't worry. There are still a couple of toys I need to sell and orders to send. Thanks for coming to my TedTalk and enjoy whatever that's left of the previous weekend.