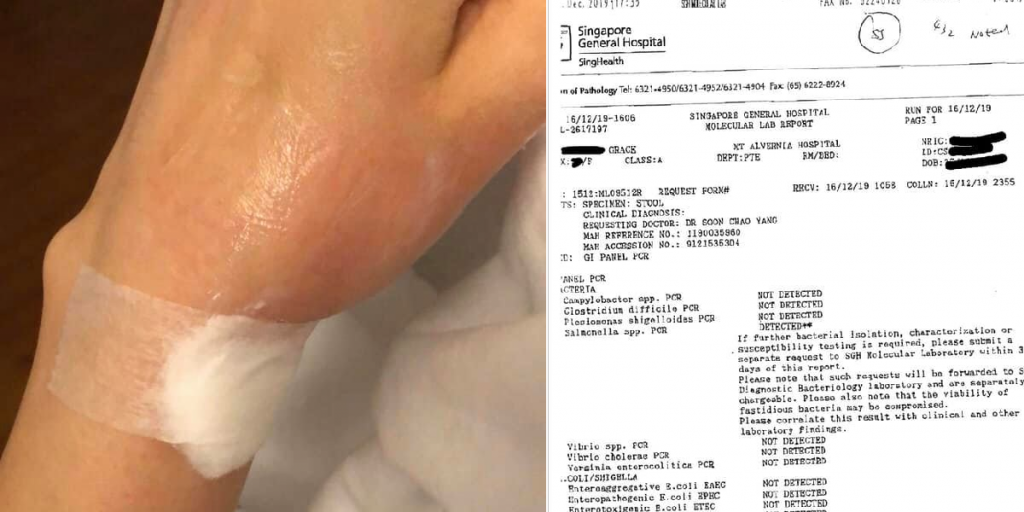 FRIDAY 13 Dec
My wife and I went to Itacho Sushi at Jewel Changi Airport for dinner on 13 Dec, Fri.
SATURDAY 14 Dec
The very next day, she started experiencing fever and stomachache but chose to self-medicate not thinking too much about it.
SUNDAY 15 Dec
Aches persisted so on Sunday morning, we went to our GP where she received am injection and medication. Her fever and pain did not cease. In fact, the temperature got higher. That very same night, my wife was admitted to Mount Alvernia.
TUESDAY 17 Dec
💔 Diagnosed with Salmonella, a bacterial disease that affects the intestinal tract. The doctor confirmed that Salmonella was caused by her consumption of uncooked meat or seafood. For the next 3 days, she experienced very bad pain with stomach cramps.
The only uncooked food she had was from ITACHO Sushi. She did not eat any uncooked meat or seafood before or after our dinner. So as a concerned spouse, I called ITACHO Sushi about the incident and they claimed that it "may not be our fault as it was only one case, and we won't be responsible for it."
My wife could not sleep, eat or do anything else but to lay in bed, in pain for days.
SINGAPORE FOOD AGENCY (SFA)REPLIED
A report has been filed to SFA. They returned with results which says that the restaurant failed on some criteria, but they were not able to tell us further which aspect of their restaurant (Food quality? Food handling? Kitchen cleanliness? Hygiene?) failed their expectations. And they also mentioned they are not able to provide me with black and white. What they did say is that they will take actions against ITACHO Sushi at Jewel Changi Airport.
OTHER SIMILAR INCIDENTS
A search on the internet turned our some interesting results. I found out that 2 similar incidents were reported dated 27 Nov and 6 Dec 2019 respectively. The former took place at the very outlet per my experience and the latter in ION, Orchard.
👉🏻
https://iwaspoisoned.com/search?s=Itacho%20sushi
Even when my wife has discharged (22/12/2019)she is in the weakest physical condition I have ever seen her in…
So please, my friends, do not spoil your Christmas and New Year holidays by dining in at ITACHO Sushi at Jewel Changi Airport or other outlets – at least until reassurance have been given that incidents such as my wife's will not happen again. But if you do, please order the cooked food items instead.