A Facebook user, Veron Lok, shared how she bought a bowl of Laksa from an S11 coffeeshop at Block 302 Marsiling.
She said that after almost finishing the bowl of laksa, she found a creepy crawly inside the soup, and her son the pointed out that it was a meal worm.
Here is what she said
OMG…. Almost finish eating of this bowl of laksa than saw this at the bean sprout… OMG so disgusting lo.
My son checked and told me that is mealworms. Just let you guys to take note when you are eating laksa at blk 302 Marsiling S11 coffeeshop..
Netizens' comments
Laksa gravy are made and mixed with sandworms from the beach to stay fresh. So when they stirred the gravy many times in a day, it will not turned sour. That is why the hawkers do not served you the sediments at base of the laksa soup. They only scooped the gravy at the top. It's a secret that only the laksa hawker know but can't tell you. Do they still do it now? I am sure it's the same old recipe used in the original way from years ago.
I remember ppl do cook laksa w some kind of worms so this could be it. It's an ingredient. They won't tell you for fear something like this happens.
I remember when i eat nasi lemak,bfore i eat i check 1st there us something there,u ok know inside the nasi have lizard tail..do until now u dont want eat nasi lemak…delicious or not i wont eat nasi lemak…lost appetite…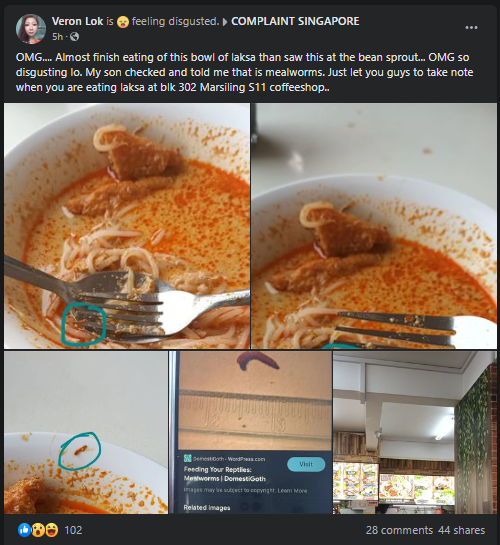 Source: Veron Lok on Facebook