A Facebook user, Phong Enyi Magdalene, shared how she visited a The Coffee Bean & Tea Leaf branch at West Mall.
She had ordered a breakfast meal based on an advertisement that she saw on a board, and allegedly received a totally different order.
She complained that the toasted bread was "as hard as a rock", and that their wrap was replaced with bread because there was no more wrap.
She also claimed that she didn't receive her hashbrowns and that the outlet had allegedly also refused to give them a refund.
Here is what she said (SIC)
"Horrible west mall coffee bean branch.
Misleading pictures. Showed a big nice cup of latte but look at what came. When asked, the person said it's not their decision to give us this paper cup drink. While other people who dined in all received in their glass cup. But we were given small disposable cup that looked very different in comparison to the picture.
The whole meal was replaced with another meal. one set of overly toasted bread that's as hard as a rock and another set of bread that's not toasted at all.
When we ordered; what was communicated was there's no more wrap. So they will replace with bread. In the end; what came back was bread, scrambled eggs and ham but no Hash brown!
When we asked, they said they told us that they are replacing the whole meal but this was definitely not what was said!
We waited for more than 20 mins for this and end up all the issues and now we need to wait further for them to redo the bread. They declined our request to do a refund.
Oh and coffee bean page doesn't allow people to do review.
Try to dine in at other places that's more honest with their advertisement."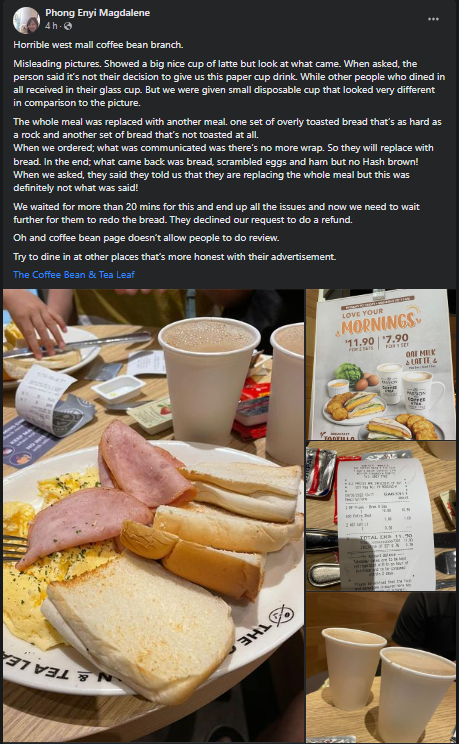 Source: Phong Enyi Magdalene on Facebook