Domino's Pizza Singapore recently posted on their Facebook page announcing their launch of a new "photo pizza" where customers can customize their pizza with a photo of their choice and a customised message, as part of their April Fool's joke.
However, several disgruntled customers commented on the post and used it as an opportunity to complain about the service they received.
A Facebook user, Nenita Lopez Torre, said that she had ordered a pizza on 31 March at about 8.19 pm and received a notice that it would be delivered at 9.19 pm.
She later received a call from the delivery driver who asked her if she wanted to cancel the order but she opted to continue waiting.
She alleged that there were no more calls or updates after that.
The next morning, her husband called the shop again at about 11.34 am and asked them what happened, and the customer service staff then told them that their pizza would be delivered within 30-45 minutes.
But at 12.41 pm, she had to follow up again on her order, and after a back and forth with the customer service staff, their pizza eventually arrived at 1.05 pm.
Here is what she commented (SIC)
We ordered around 8:19 pm yesterday. They sent a notice that delivery will be 9:19 . Driver called at 10:35 pm to ask if we want to cancel but we said we're going to wait last night. No more call after that.
This morning my husband called again at 11:34 to check what happened. Customer Service said that it will be delivered within 30-45 mins, which we agreed.
To our further dismay, we need to follow up again at 12:41 pm. We are asking for the CS manager but the CS kept saying that the manager is not available!!! Delivery arrived at 1:05.
This is a VERY POOR service and handling of issue!!!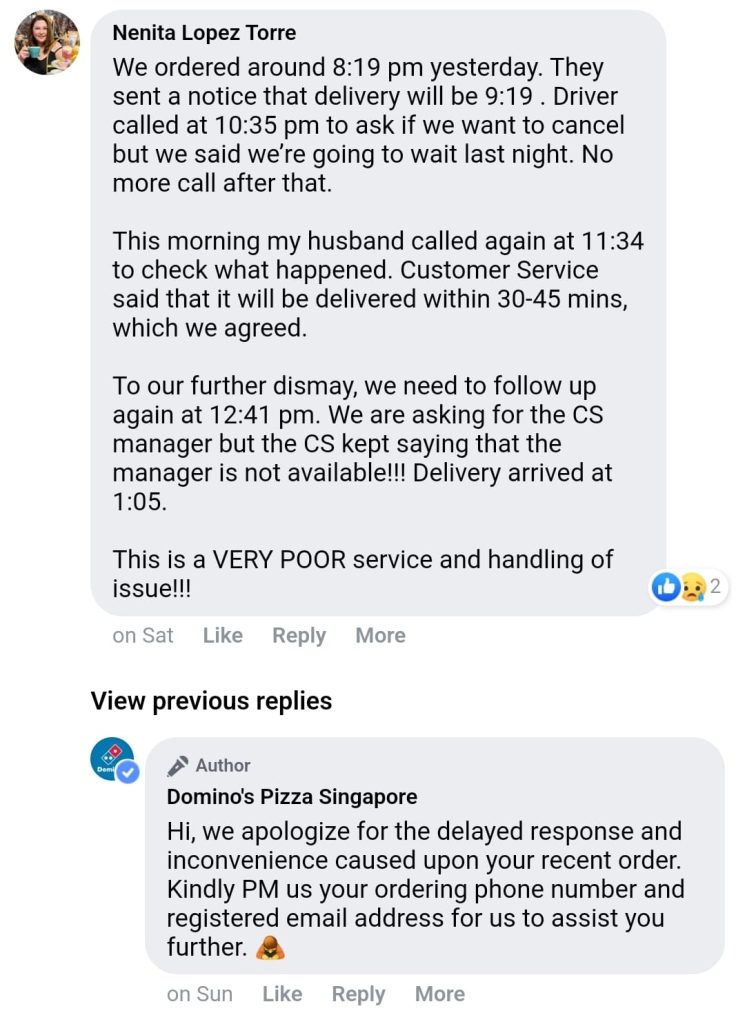 Domino's Pizza responds
A service recovery representative from Domino's Pizza told Mothership that the customer had contacted them about their missing order from the night before, and claimed that the customer was "agreeable" for them to deliver the pizza to them in the afternoon.
They also added that they have reached out tot he customer and assisted them in their affected order, and claimed that the customer is "agreeable" with the arrangements that they have made.
Here is their statement
"We'd like to clarify that after the customer had contacted us on their missing order from the night before, the customer was agreeable for us to deliver the pizza to them in the afternoon. This explains why they had received their pizza the day after they had ordered their pizza.
We understand and acknowledge the frustration that the customer experienced and we take full responsibility for the delay and inconvenience caused. We recognize that we can do better to ensure our customers are kept informed of their order status.
We have reached out to the customer and have assisted them in their affected order. The customer is also agreeable with the arrangements we have made."
Other customers' complaints
I ordered my pizza around 6.15pm and supposed to be delivered around 6.45pm. The pizza order did not come even after more than 3 hours.
Please cancel my order and provide full REFUND.
The service is unacceptable.
I ordered at 6:15 and it's already 8pm i have yet to receive the pizzas!!!! Gps tracker in your website is useless!!!! Cannot even track my order and i dont know the status of my order. Ive been calling your hotline and nobody answer!!!!!! So frustrating with your service!!!!!!
After waiting for 1 hours and 40 minutes, pizza still under "preparing" no way to cancel, customer service is always engaged as well. This is the worst! Domino's, please at least if you cannot fulfill your commitment, let your customer cancel their order instead of expecting your customer to wait for the dinner to become supper!
GF-182. Ordered from 19:47 until now at this very time still not delivered. Understand it's fasting month. I also gave some grace time. But til 10pm and still have not received and CS hotline is not answering. I'm leaving my workplace and if it's still delivered I'm going to laugh