Facebook user Vikko Xinhang Xu shared that she visited Janggut Laksa along Upper Paya Lebar Road and bought a bowl of laksa for $5.50.
She then paid an extra $2.50 for extra prawns and ended up only receiving half a piece of prawn in her add-ons instead.
The Quest for the Perfect Laksa
Vikko shared her complaint on Facebook on 15 September, when she patronised Janggut Laksa, nestled along Upper Paya Lebar Road.
She placed her order, initially costing her $5.50, before adding extra prawns for an additional $2.50 and the takeaway surcharge, which amounted to $0.50.
She ended up only receiving half a prawn for the extra $2.50 that she paid.
Vikko took her concerns to social media, uploading a post on the Facebook group "Complaint Singapore" to express her disappointment. She exclaims in disbelief, "$2.50 for half a small prawn, amazing!"
What added to her disappointment was the fact that this culinary mishap happened at Janggut Laksa, an establishment with a longstanding reputation. Known as Singapore's original Peranakan-style laksa, Janggut Laksa has been serving its dishes for decades.
A Perspective from Janggut Laksa
In response to Vikko's post, a spokesperson from Janggut Laksa offered some insight. They explained that the $2.50 add-on typically includes four to five pieces of prawns, the exact number depending on their size.
They also acknowledged that the incident might have arisen due to miscommunication or staff error and assured that they are actively looking into the incident.
The netizen's post
Janggut Laksa, extra $2.5 for half prawn.
Today I went to Janggut Laksa for laksa. I paid additional $2.5 for extra prawn. But they only gave me half of prawn!!
Regular laksa $5.5 + Prawn $2.5 + Takeaway $0.5
= Totally $8.5
So I paid for $8.5, just got a small portion of laksa with extra half of prawn LMAO. I don't know when SG living expense becomes so high ah? $2.5 for half of a small prawn, amazing!!
Janggut Laksa, you such a famous laksa hawker since 1950s, see see how do you do your business now??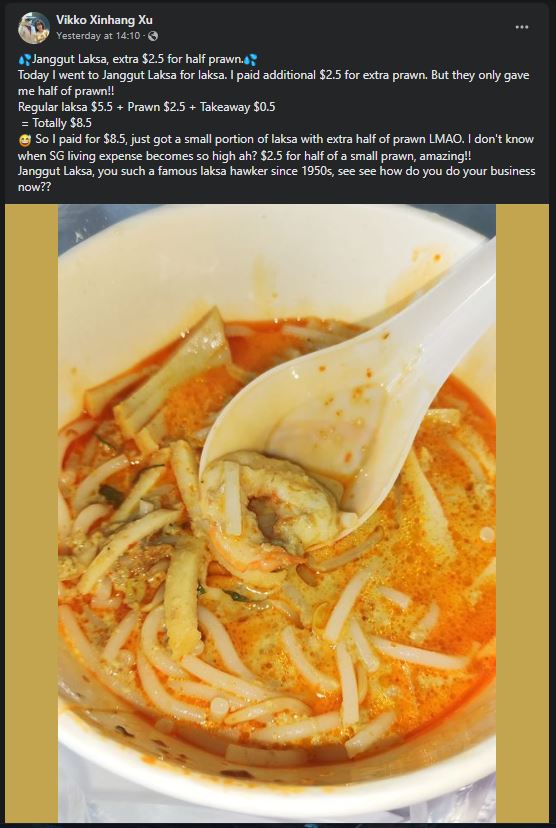 Source: Facebook