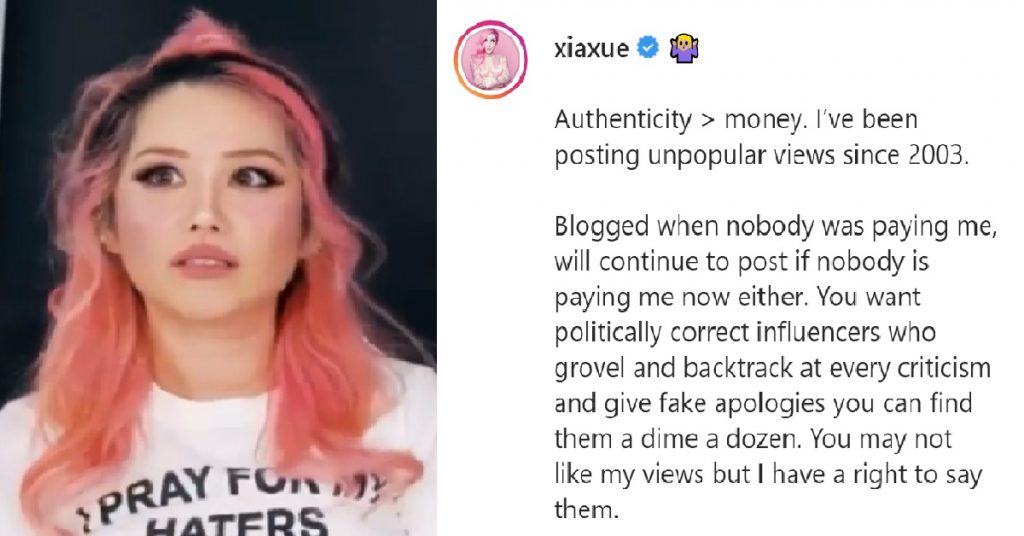 Famed blogger Xiaxue, also known as Wendy Cheng, has hit back at the internet crowd trying to "cancel" her by getting her sponsors to cancel their partnerships with her.
Several of her sponsors, including Caltex, Fresh and Brother (to name a few) have been called on to end their partnerships with Xiaxue or face a boycott.
On July 6, Fresh announced that it has terminated its partnership with Cheng, as well as announcing a one-day closure of all shops, offices and websites to commemorate diversity, equity and inclusion, to "listen, learn and evolve the way (they) work to fight racism and inequality in all its forms".
Cheng said that she is "disappointed" but understand their stance because they were "harassed by these trolls".
She labels their behavior as "blackmail".
In "retaliation" to the backlash against her, Cheng posted onto her Instagram insisting she will not be bullied into silence:
Authenticity > money. I've been posting unpopular views since 2003.

⠀

Blogged when nobody was paying me, will continue to post if nobody is paying me now either. You want politically correct influencers who grovel and backtrack at every criticism and give fake apologies you can find them a dime a dozen. You may not like my views but I have a right to say them.

⠀

You are not going to bully me into silence, or force me to be a hypocritical woke sheep like you, echoing the same tired sanctimonious virtue-signaling crap every other person on social media is repeating ad nauseam. It's like all of you are infected by the same mind virus. Blah blah patriarchy blah blah intersectionality blah blah internalized systemic institutional structuralism blah blah cis-heteronormative inclusivity representation acknowledge your privilege blah blah blah. Dude. Have some original thought. And here's something that will shock you: if your ideologies are all backed up by giant corporations, you are not that radical.

⠀

I post not to please you. I post because I think it's important to have diverse viewpoints out there for people to decide for themselves. Why? Are your arguments so weak you want to shut down anyone who disagrees with you?

⠀

I have the strength to carry on no matter how hard you fuckers try to bring me down because my supporters expect me to always be real, and to say the hard truths on their behalf when they can't. Facts are sometimes not nice, but someone has to say it. If it has to be me, so be it. You hateful people don't matter. My supporters that have been here for years and years matter.