The infamous MBS Badge Lady, 55-year-old Phoon Chiu Yoke, returned to court on 24 February to contest 4 charges against her, with two of them being for her allegedly failing to put on a face mask along Orchard Road on 6 March 2022, a mere few weeks before mask-wearing became optional outdoors.
The prosecution called upon influencer Xiaxue and her camera operator Kent Lee to the stand as witnesses, with the two allegedly seeing Phoon strolling down Orchard Road without a mask on and capturing it in their video.
Lee testified first and said that the incident took place at about 3pm as he was filming Xiaxue interviewing other members of the public.
He then saw Phoon as he was looking out for people who might walk into his camera shot, and he immediately alerted Xiaxue about it.
Lee noticed that Phoon wasn't eating, drinking or consuming any medication at the time, and her face mask was not put on.
Xiexue then testified next, saying that she saw Phoon while filming a video and decided to film her.
She said that she didn't want to get too close to her to avoid being confrontational, but she decided to approach her and ask her if she'd like to be in her video.
Xiaxue reportedly said: "I approached her and asked if she would like to be in our video and be interviewed and have a chance to win prizes."
However, the badge lady ignored her and looked ahead, which Xiaxue took it to mean that she was not interested.
She then asked Phoon if she was indeed the Badge Lady, but the latter continued to ignore her and walked on ahead.
Xiaxue described Phoon as "quite cold" and "aloof", behaving in a way that seemed arrogant, and showed that "she didn't really appreciate being spoken to."
Phoon is facing 4 charges against her, with 2 charges for not wearing a mask along Orchard Road in March last year, one charge of not wearing a mask at ION Orchard in August last year, and one charge for failing to show up for an STB investigation for her failure to wear a mask.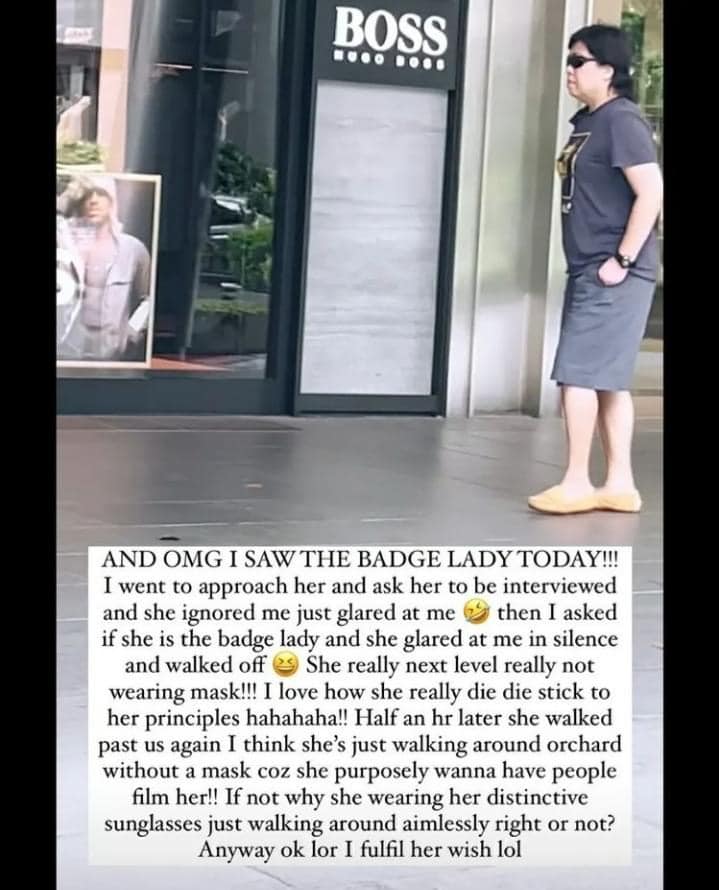 Recap
55-year-old Phoon Chiu Yoke, otherwise more famously known as the MBS Badge Lady, was handed new charges on 7 September for failing to wear a mask when it was still required.
She was charged with two counts of failing to wear a mask, as well as one more charge of not complying with an officer during investigations.
She is being accused of failing to wear a mask over her nose and mouth while strolling along the Mandarin Gallery at Orchard Road on 6 March at about 3pm.
She is also being accused of failing to wear a mask outside Victoria's Secret at Orchard Road on the same day, about half an hour after her first sighting.
She was seen without her face mask on by Xiaxue on that day, who was filming a video when she spotted the Badge Lady.
The Badge Lady is also charged with failing to attended an STB investigation for not wearing a mask, and she told the court that she plans to submit a plea with "mitigation factors" and is set to return to court on 14 October for a pre trial conference.
Unrepentant repeat offender
She was previously sentenced to 16 weeks imprisonment in September 2021 after pleading guilty to 9 charges of Covid-19 regulations breaches, with 13 other charges taken into consideration during her sentencing.
She has since been spotted by members of the public for failing to put on a mask after her jail sentence, at a time when wearing a mask was still required under the law.