A video emerged online showing a girl being confronted by another group of girls, before getting mercilessly beaten up by them as they punched her face repeatedly and pulled her hair, while a group of guys surrounded them and filmed them while chanting "whack, whack, whack!"
What the video showed
At the start of the video, the victim, seen wearing a black shoulder-strap top, was seen trying to flee from her attackers with another girl who was holding on to her hand.
However, the assailants gave chase and managed to catch up to the victim, as they were followed by a group of guys armed with their mobile phones and recording the whole thing.
In the next shot of the video, the victim was seen being surrounded by her attackers and the huge crowd of guys, as her rescuer watched on helplessly.
A heated exchange then ensued as the crowd bayed for blood, and the victim ended up getting railed on by 4 of the other girls, as they rained heavy blows repeatedly on her head and viciously pulling on her hair, dragging her down onto the ground.
She remained squatting on the ground as she held on to her head, evidently in pain, as the crowd of guys recorded the whole thing and cheered the assailants on.
Different POV of the initial attack
The video then cuts to the next shot, presumably a different POV of the attack, showing how the attack came to be.
One of the assailants in white was seen screaming vulgarities at the victim as a guy screams off camera "whack whack whack! no need scared one, just whack!" before another of the assailants, also wearing white, joins in and screams at the girl.
The victim could be seen turning around to look for support as she cries, while the assailant in white could be seen happily smiling away as she laughs with her accomplice.
The two girls then suddenly grabs hold of the victim's hair, catching her off guard and throwing her onto the ground as they rained heavy blow after heavy blow on the victim's head.
Corners victim to a fence
The attack then escalates to another location, as seen in the next shot, as the girls took the assault beside a fence.
The crowd could be seen gathering around the girls and filming as a few of the guys even climbed on top of the fence to get a better view of the attack.
The confrontation continues as the assailants cornered the victim, who was literally back against the wall, facing the 4 assailants and the whole entire group of guys filming her.
This time, another of the assailant, also wearing a white top but sporting a light-brown ponytail, threw a right hook at point-blank range, striking the girl square on the face before unleashing a barrage of repeated punches on the victim, before switching to slapping the girl repeatedly as she held her hands up to protect herself, in futile.
FULL VIDEO LOADING…
Conducted "post game interview" with the assailants
Background behind the attack
According to an anonymous netizen, the 4 girls who attacked the victim, did so because the victim had spoken badly about them.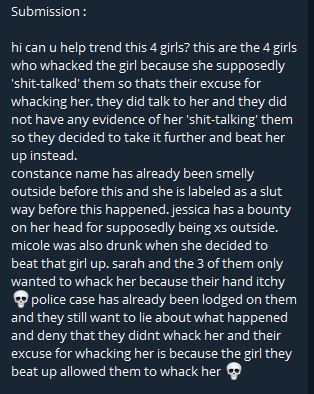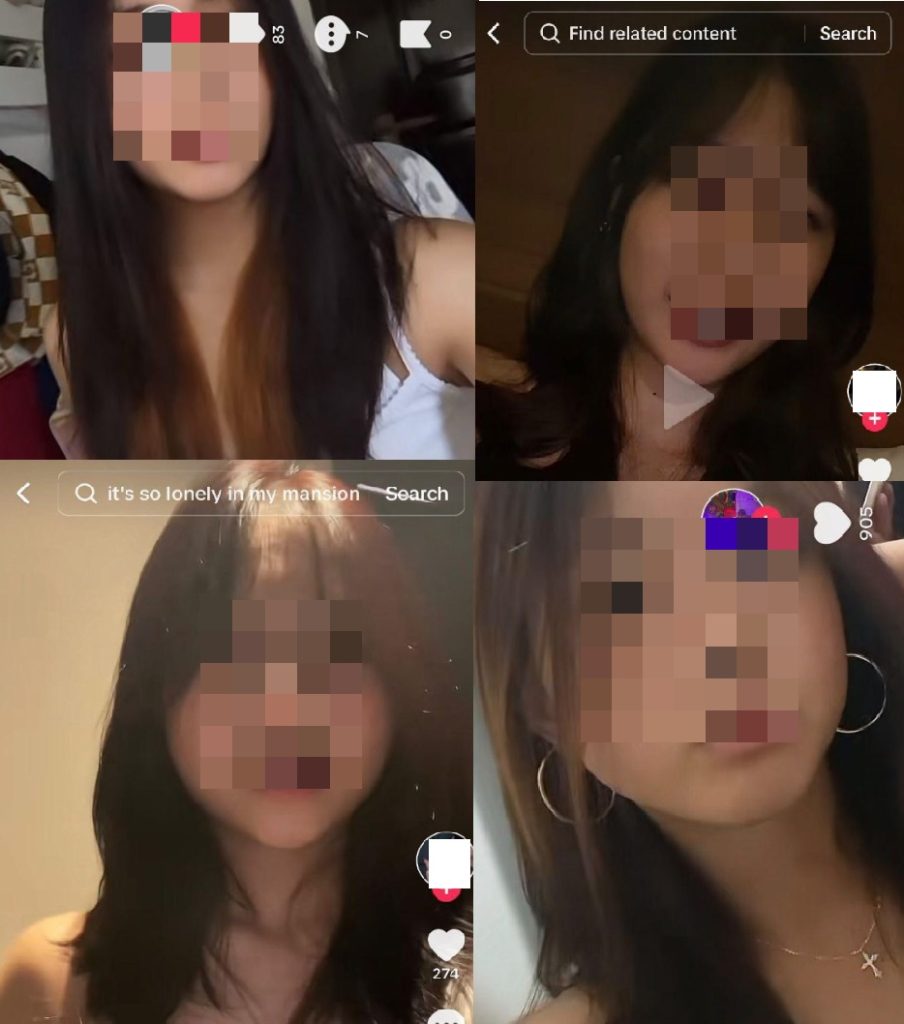 One of the attackers issues public apology