non Finance, non loan, non property, non banking, non credit card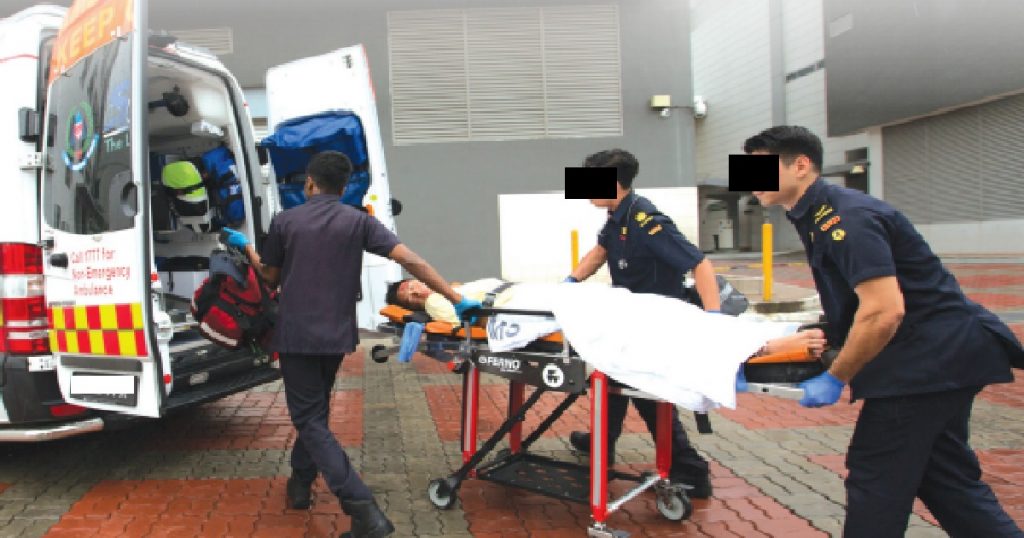 A 55-year-old heart attack patient was being transferred from Khoo Teck Puat Hospital (KTPH) to the National Heart Centre Singapore (NHCS) when the stretcher he was on collapsed head first onto the ground, with the man still attached to the stretcher.
He later died from a heart attack and bleeding in his brain.
A senior neurosurgeon said that although his head did not hit the ground directly, it contributed to the bleeding in his head.
What happened
The victim, 55-year-old Mr Razib, visited KTPH on 17 June 2018, after experiencing chest pains and he was later diagnosed to have suffered a heart attack.
He then underwent procedures to improve his condition but to no avail.
A medical team from NHCS in SGH, was brought in to aid in his heart function using a life support machine.
Mr Razib was due to be transported to NHCS but during the transfer, the battery of the life support machine went flat just as the team arrived at SGH.
But his pulse was still able to be felt and his condition was still stable.
He was then unloaded from the vehicle by the ambulance drivers and other NCHS staff (the KTPH porter who was supposed to assist in unloading the stretcher, couldn't come along in the ambulance), but the stretcher's collapsible wheels didn't extend and click into position.
The portion of the stretcher that was supporting Mr Razib's head fell and struck the floor, as his body was still secured on the frame.
He was transferred to the critical care area where the life support machine was powered up again and subsequently transferred tot he surgical ICU 2 h ours later.
A CT scan showed that he had bleeding in his brain and evidence of significant swelling and damage.
His condition was expected to deteriorate and his family decided to cut off life support.
Mr Razib passed away within an hour.
Death ruled a medical misadventure
On 13 April 2021, state coroner Kamala Ponnampalam ruled Mr Razib's death as a medical misadventure, and that the head injury he sustained actually caused his condition to worsen.
Image source: scdf.gov.sg (please note that top image is used strictly for illustration purposes only)