A couple of cyclists were seen cycling on the right side of the road, when a driver allegedly honked at them for failing to keep to the left side of the road.
One of the cyclists then stopped his bicycle in front of the driver's car and went to his window to confront him, along with the other cyclist.
The incident happened yesterday (3 September) at about 8.37am along Yio Chu Kang Road.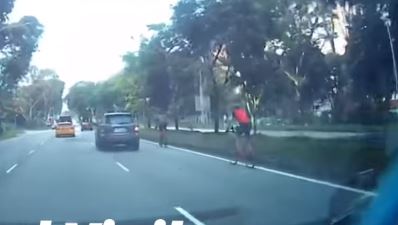 Road traffic act
Bicycle, etc., to be ridden on left side of road
A person who rides a bicycle, power-assisted bicycle, trishaw or tricycle on a road must ride the bicycle, power-assisted bicycle, trishaw or tricycle as near as practicable to the far left edge of the road.
Netizens' comments
They're waiting for a super bad incident where death results (likely locals will be beaten up coz we don't assault people anyhow) before they look into the reckless cycling behavior of cyclists, and how sg roads are not designed and modified to allow cycling on all roads in sg.
Cyclist never follow rule Ah . Still act like hooligan ? This is is not some international settlement but a country with laws . I'm disappointed we are having such foreigners with self entitled attitudes here
Whose children are these? uneducated and lacks consideration for other road users, cycling this way in sg and blocks others car like as they wish. Shame shame la!
Its him again. Omg. This cyclist ride like they owe the road. And they confront the driver as if their country.