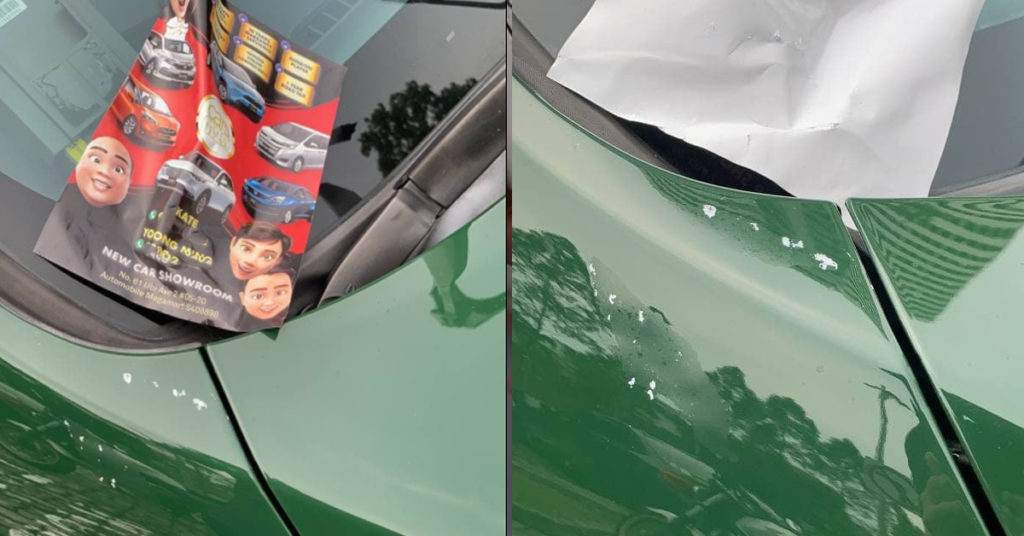 [UPDATE: I have made a police report. "Kate" is still not interested in any compensation, save for to go their recommended workshop "which will be done up to my satisfaction". I would not want to take that risk.
thanks all who gave suggestions. Generally, the coating is damaged already as the flyer was stuck for a number of hours under the sun.
Hope that some justice can be done; if not anyone else can commit a similar act and get away with it.]
I went do a car coating on 19 September 2021. Happily collected my car and went home. Life goes on as per usual.
On Tuesday 21 September, at 430pm. I went down to the carpark to drive the car out. I then saw a flyer stuck on my newly coated paint. It was a flyer for car sales "Kate" and " Yoong Ming". I peeled off the flyer and to my horror, the plastic parts of the flyer had already melted and stuck onto the paintwork. Water did not help at all and my Coating shop said that have to redo the panel at a small cost.
I contacted "Kate" who did not want to compensate me for the repairs but instead out of goodwill; recommended me a shop at Turf City where they will repair for me to its "original condition", and it will just be a 10minute easy job, as said by "Kate".
I went on to check my neighbour's cars and wow. The flyers are all stuck on the paintwork as well. Is this on purpose? New method of marketing is to damage the paintwork?
Would this work? Any bros can advise? My concern is that the recommended shop can't fully repair the coating as the products used will be different and workmanship is also different. What if the coating is further worsened and I have to fork out more money to repair. I am thinking of making a police report.