If you travel out of Singapore's Changi Airport starting in November, you'll have to pay an average of an extra S$7 in airport taxes and levies.
The Passenger Service and Security Fee (PSSF) and Aviation Levy (AL) levied on travellers departing from Changi Airport will rise on November 1, 2022. These taxes and levies will support Changi Airport Group's (CAG) operations, present infrastructure upgrades of terminals, and future expansion plans, as well as the Civil Aviation Authority of Singapore's air hub development and regulatory activities (CAAS).
According to plans made in 2018, the PSSF for OD passengers flying from Changi Airport would be S$35.40 in 2020, S$37.90 in 2021, and S$40.40 in 2022. Because of the COVID-19 pandemic, the scheduled increases in 2021 and 2022 were canceled, and the OD PSSF has stayed at S$35.40 from 1 April 2020.
From 1st November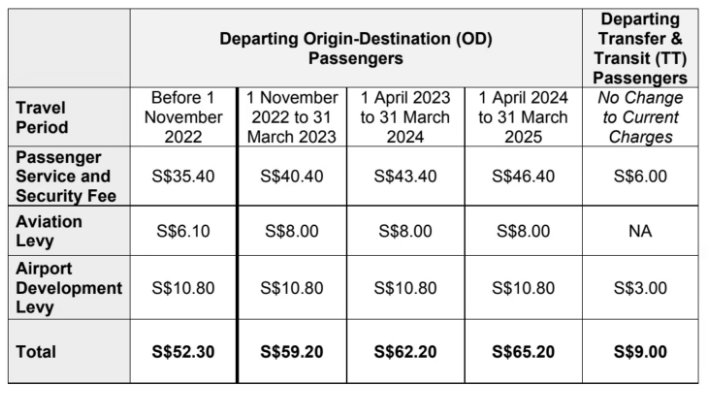 To meet the greater cost of operations, the OD PSSF will be modified to S$40.40 on 1 November 2022, S$43.40 on 1 April 2023, and S$46.40 on 1 April 2024. As previously reported, the Landing, Parking, and Aerobridge (LPA) costs for all planes operating at Changi Airport will increase by 2% from November 1, 2022, and by another 1% each year on April 1, 2023, and 2024.
In addition to assisting CAG's operations, the PSSF and LPA fees fund growth plans and infrastructure upgrades at existing terminals, which have been ongoing during the epidemic.