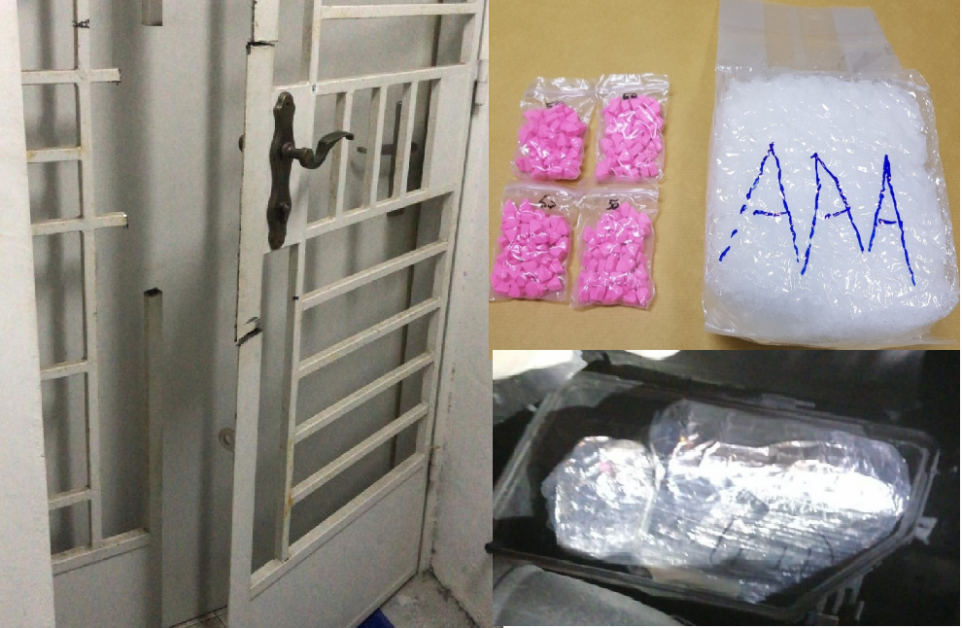 On the 21st of October 2019, a 34-year-old Malaysian was stopped by officers on duty and over 1 kilogram and almost 200 pills of Ecstasy of ice were found on the suspect's vehicles at Woodlands Checkpoint.
CNB officers continued to arrest another drug trafficker at his workplace and placed a 47-year-old local man under arrest and found 25 grams of Ice and some heroin in the suspect's car.
The 47-year-old's hideout at Geylang has even more drugs. CNB officer searched a unit located at Geylang Lorong 4 and found 8grams of Ketamine, 622 grams of ice, 1.572 kilograms of cannabis, almost 300 Ecstasy pill and 1703 Erimin-5 Tablets. A 46-year-old man was also arrested at the hideout.
This lead to follow up raids to a unit at Tampines Avenue 9. The officers had to cut open the gate to gain entry into the unit as another 46-year-old suspect refused to comply with the officers.
11 grams of Ice, 57 grams of new drug substance, 61 grams of cannabis, 10 tablets of Ecstasy, 11 Ermin 5 was found in the Tampines unit. The officer proceeded to search his car and found even more drugs.
It is estimated that all the drugs seized in the operation are about $223,000 in street value.