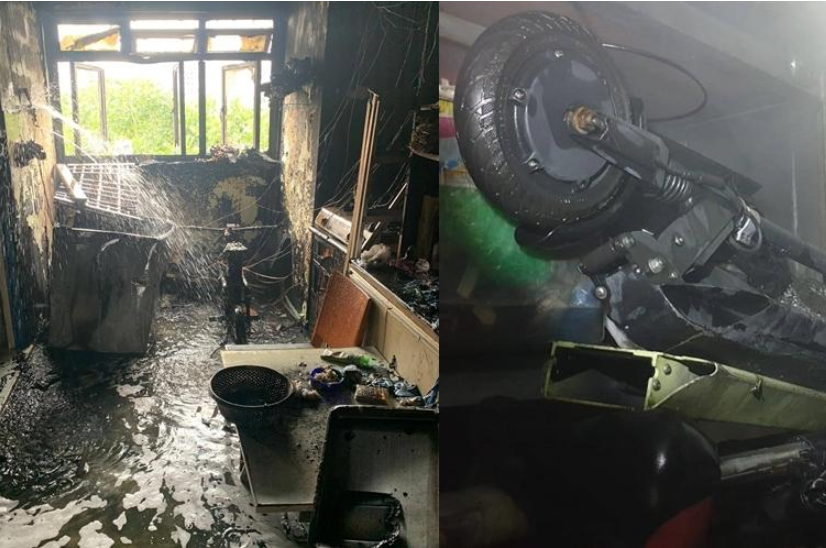 The Singapore Civil Defence Force received two reports of personal transport tools (PMD) catching fire
That resulted in two people admitted to the hospital due to burns and inhalation of smoke.
SCDF Reported First Fire: 11:15 this morning at a flat on the seventh floor of Block 106, Block 4, Bedok North.
The fire took out the whole kitchen, and the Civil Defence Force used a water jet to extinguish the fire. 
A male resident was taken to the SGH for treatment because of inhaling smoke. About 40 residents of the HDB have evacuated themselves before the arrival of the Civil Defence Force.
SCDF discovered that the fire was caused by a PMD that was charging.
Video of Bedok Fire Loading…
The second fire occurred at about 11:55 this morning at the No. 33, Lane 19, Geylang, a shop selling electric scooters.
The fire involved items in the shop's storeroom. After the Civil Defence Force arrived, the water jet was used to extinguish the fire. An employee was sent to the SGH for treatment because of burns.
Initial investigations revealed that both fires were related to the power supply of the electric scooter. At the time of the incident, the electric scooter involved was charging.
Image Source: SCDF

Image Source: SCDF