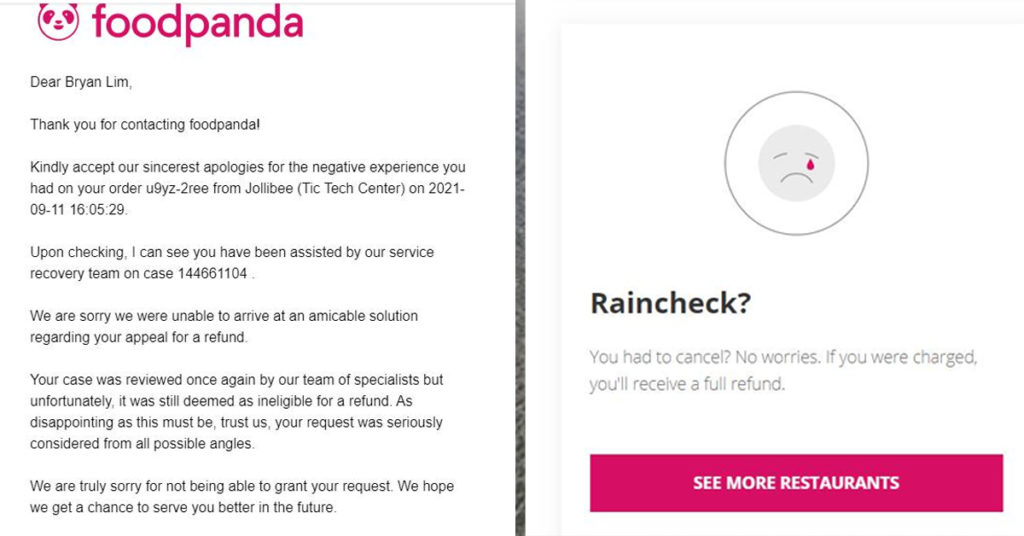 Hi did anyone got their money stolen from foodpanda. Order 100$ worth of food got cancel by the restaurant or driver. Escalate the issue for a refund. And was told that I cant get a refund. Ask why I can't get a refund their answer specialist team said I wasn't able to get it. Got escalated 4 times receive this msg 4 times. So I get no food, shitty resolution, and my money is now gone.
Anyone got a solution. @foodpanda can I have my money back or an appropriate answer on why I'm eligible cause my time and money were wasted.To give more context at first they say the restaurant cancels on me now they say I cancel on them and they even said they call me multiple times.
But when i ask to exchange proof of phone log, they doge my answer haha .
If they would like to steal my money pls lie properly (I ADDED PICS THEM SAYING I WILL BE REFUNDED WHEN IT GOT CANCELED)