A woman, presumably a tourist was seen occupying several seats on the MRT so that she can place her bags.
Netizens start to discuss if the bag has a backside.
Tourist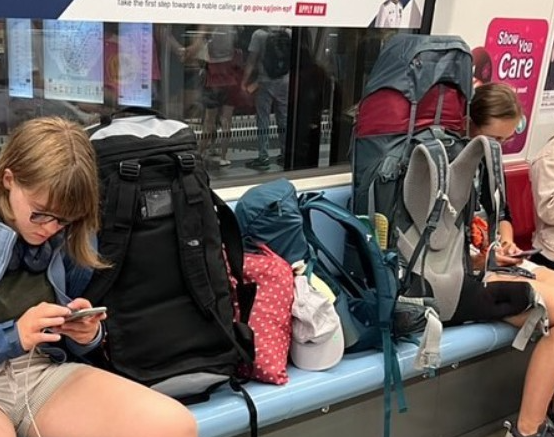 it is extremely inconsiderate of tourists to occupy MRT seats with their bags. This is not only disruptive to fellow commuters, but it also prevents others from taking a seat and enjoying a comfortable ride.
It is understandable that tourists may not be familiar with local etiquette, but it is essential that they are aware of the inconvenience they are causing. Tourists should be respectful of other passengers and show consideration by leaving MRT seats open for those who need them.
Furthermore, they should take care to ensure that their bags do not take up too much space and make it difficult for passengers to move through the train. It is important that tourists respect and adhere to local customs and not be inconsiderate when travelling in Singapore.
Here are what netizens think:
Sometimes can't blame them. If they put the bags on the floor then it'll be difficult to walk. If put bags beside seats same u can't seat too.
That bags have there own ezilink also ……lol but the question is? Regular or student fares? Lol
This is the problem of having common train to city . In HK , the train from airport is separate from the usual MTR routes. There is potential security issues also.
to wherever they go. Especially most angmo not all but the younger generations. They thought is kool. Something is really wrong about the whole world educations including here…
I been to some countries, they have a section to put luggage or big items.
I guess this train should be heading airport. (Tanah merah, expo. Some tourist passenger will put their belongings at the seat that no one seat along this row
Every morning time like that MRT maybe all peoples going Airport. Good idea.
If no much passenger it's ok. if there's a lot you can ask them politely to remove their belongings. So easy!
They might be a little inconsiderate but that cannot be worse than your parents giving you a mouth but you don't use it, instead they gave you a judgmental mindset.