A netizen has taken to social media to voice out his displeasure on his recent experiences in pumping petrol from a certain petrol kiosk.
Firstly, he laments that the petrol prices are very expensive now at $2.70 a litre and yet the pump attendant who was attending to his vehicle did not fill in the petrol properly causing an overflow.
He then claims that this is not the first time as his previous experience of filling up petrol at the kiosk was equally bad as the petrol gun did not stop automatically, causing about 2 litres extra of petrol to flow out as the petrol tank was already full.
It was $2.40 previously compared to the price of his most recent session at $2.70 which he faces the same situation where the petrol overflowed due to the fault of the attendant/pump gun.
He ends of with post by saying that it is not the consumers' fault and why should they pay extra for the petrol that was wasted due to the fault of the pump attendant or the faulty auto stop mechanism of the pump gun.
From the pictures posted by the netizen, the said petrol kiosk is a Caltex petrol kiosk but it is unclear which outlet is it and the pump price of $2.70 shows that the netizen is pumping Regular 92.
Here is the post by the netizen as seen on social media
"Petrol price is so expensive and the attendant spill the petrol. Not the first time.
Previously the refill gun safety stop never activate causing at least 2 litres of petrol to overfill.
That time was abt $2.40 per litre. Today $2.70 and overflow again.
Hello our $ is not to pay for petrol that overflow from the tank which is cause by(ur faulty refill gun/staff who squeeze N squeeze N squeeze till overflow)"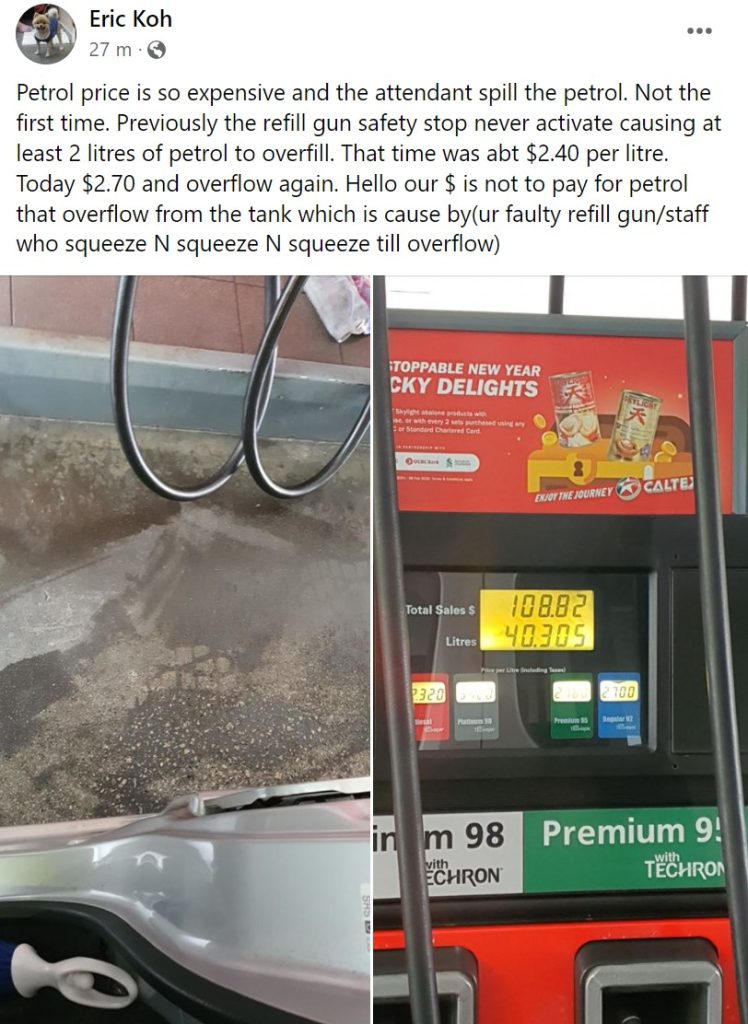 Image source: Eric Koh/Facebook