The Ministry of Defence (MINDEF) held an exercise in the wee hours of 8 February 2022 at Star Vista located at Buona Vista.
The exercise saw a helicopter from the Republic of Singapore Air Force (RSAF), model H22M, hovering above the area and inserting troopers from the Singapore Armed Forces (SAF) elite Commando troops as well as the Republic of Singapore Navy (RSN) elite Naval Diving troops as part of the exercise mission.
The simulated mission was one of rescuing hostages in an urban environment setting and aims at testing the operational readiness of the troops from the SAF and also to strengthen the responsiveness of the troops so such imminent threats.
In the video shared by MINDEF, a helicopter was seen entering the rescue area before troopers began to lower themselves from the helicopter via a rope.
They were then seen forming up and approaching the urban environment in their teams to fulfill their mission target of rescuing the hostages.
Here is the post by MINDEF on their Youtube
"While many were sound asleep last night, two Republic of Singapore Air Force's H225M Medium Lift Helicopters with a team of Special Operations Task Force (SOTF) troopers on board, headed swiftly to The Star Vista in response to a simulated hostage situation.
Comprising elite soldiers from the Army's Commandos and the Navy's Naval Diving Unit, the SOTF troopers inserted themselves into the urban complex with tactical precision before neutralising the threats and rescuing the hostages.
The scenario is part of a counterterrorism exercise conducted by the Singapore Armed Forces, which is aimed at testing the SAF's operational readiness and strengthening its response to a variety of threats. Urban settings such as The Star Vista allow the SAF to train realistically and remain ready to safeguard the nation 24/7."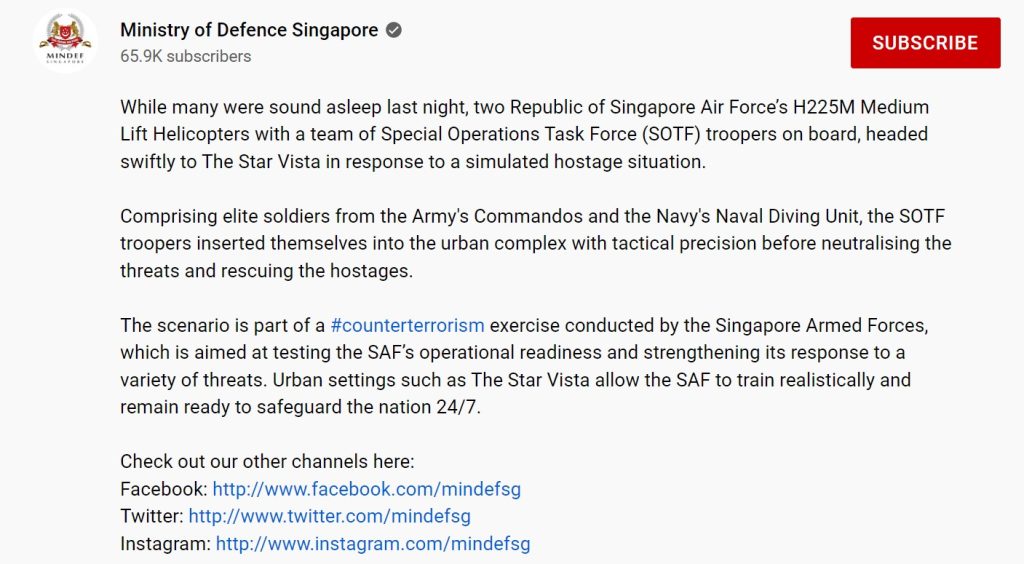 Full video loading
Image source: MINDEF/Youtube
Related