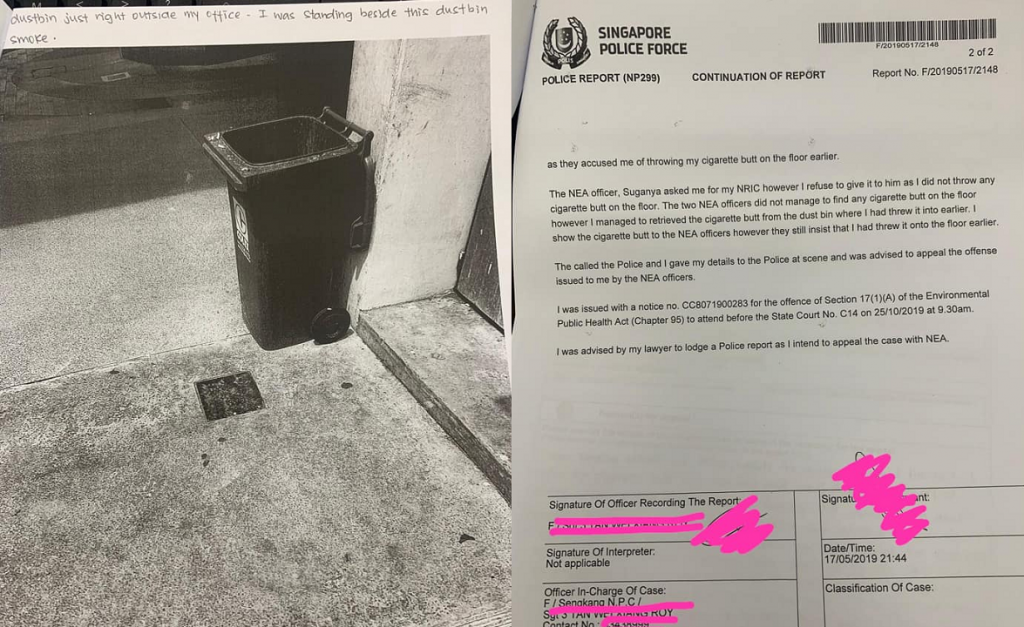 A man claimed that NEA officers falsely accuse him of throwing a cigarette button on the floor and made a report with the police and NEA.
What do you guys think of his story?
His appeal and story are written below
"I was smoking outside my office, beside the dustbin.

When I finished, i threw the cigarette butt into the bin and went back in my ofice, shortly after, 2 NEA officer named Suganya A/P Subramaniam and Jegathis Manimaran opened my office door and shouted at the door to ask me out from the office.

Then accusing me of throwing cigarette butt on the floor. Office Suganya then asked me for my NRIC but I refused because i really did not throw it on the floor.

NEA OFFICERS DID NOT FIND THE CIGARETTE BUTT ON THE FLOOR

I then retrieved the butt from the dustbin, and threw it in the bin to show them. They still insist that they saw me throwing it on the floor. They then called the polidcde saying that i refused to cooperate. But why should I let them make me guilty for something which I did not do. They are accusing me. I gave my particulars to the police and explained everything.

The police then advised me to go through the proper channel to appeal for the "offence". Dear officer, please do consider and understand my situation here. The dustbin is just beside me, why would I still throw the cigarette butt on the floor. This is the first time I wrote in to appeal although I commited the offence before. I paid for the offences the previous time as I admitted that I did.

But this, I really did not. Don't mind can check the camera the 2 NEA officers had to see if I really did throw on the floor. And also office Suganya A/P Subramaniam was very rude towards me. I felt offended and embarrassed infront of my colleagues and cutomers. Please help me check and investigate this case. Thank you for much for the help and understanding my situation"
Anyone can give him advice? He had no choice but to submit this post to us as he felt injustice and nowhere to turn.
He felt that he is required to attend court for no reason.