The dead body of Thai monk Luang Phu Woraphon Thawitan, who died about 22 years ago, is reportedly not decomposing even after more than 2 decades after his death.
What's even more baffling is that some patches of the monk's skin have turned green instead, and his body is being displayed at the Chumphon temple where he used to be an abbot, according to Thaiger.
The current abbot of the temple, Phra Khru Sri Pattarasan, said that Luang Phu was a powerful monk whose powers continued to prevail even after he died.
Tried to cremate body but it won't burn
Citing an example, Phra Khru said that the late Luang Phu previously foreshadowed his own death and told him that by the end of the rainy season, he would no longer be at the temple.
Phra Khru asked the monk where he was going and the latter then told his junior that it was time for his to die, and he later passed away about 4 months later on 20 May 2001 at the ripe old age of 101.
Following his death, the monks at the temple tried to cremate his body but it wouldn't burn, with the doctors adding that his corpse could last for only about 6 months before decomposing.
However, after 22 years, Luang Phu's body still hasn't decomposed.
Body turned green after monks had the same dream
At the time, his body was placed inside a normal coffin made of glass before being moved into an air-conditioned coffin later in 2010.
Phra Khru added that there was nothing special inside the coffin and that the only things placed inside were some tea leaves, pills for anti-moisture and some camphor tree bark.
He also said that on the night of 13 August 2010, before the body turned green, he dreamed about a snake slithering inside Luang Phu's room.
That morning, another monk also shared that he had the same dream at Phra Khru, and they then went to check on Luang Phu's body, realising that it was starting to turn green, with a patch the size of an egg in the middle of the dead monk's forehead turning green.
Thinking that it was fungus, they used a gold leaf to cover it up because they feared the villagers and relatives would think that they had painted the deceased's body green.
A month later, when the monks were trying to change Luang Phu's robes, they found that his body was completely emerald green.
Luang Phu's story soon spread across the country and some parts of the world, and many people today travel to the Chumphon temple to see his body, worshipping it to make merit and for auspiciousness.
Tourism Thailand described Luang Phu as being so holy that his body didn't decay after his death.
Description by Tourism Thailand
This old Buddhist Temple is particularly important to the people of Chumphon, who revere a monk named Luang Pu Song. This venerable monk is believed to be so holy that his body did not decay after his death.
The Wat (or temple) contains a large Sala tree with orange flowers and a strangely shaped trunk that is considered holy because the Lord Buddha is believed to have been born under a Sala tree.
Located on Chumphon Ao Thung Wua Laen route, visitors can reach this temple by turning left for 6 kilometres before reaching Chumphon Irrigation Office. The temple is open to visitors daily from 8.00 a.m.-5.00 p.m.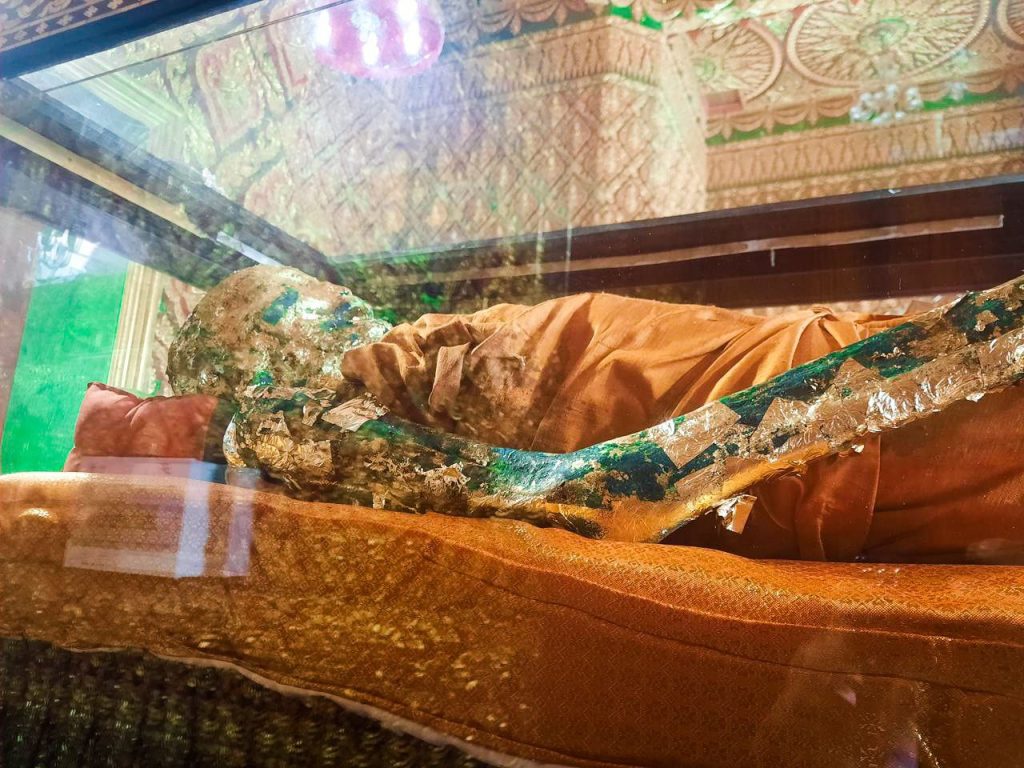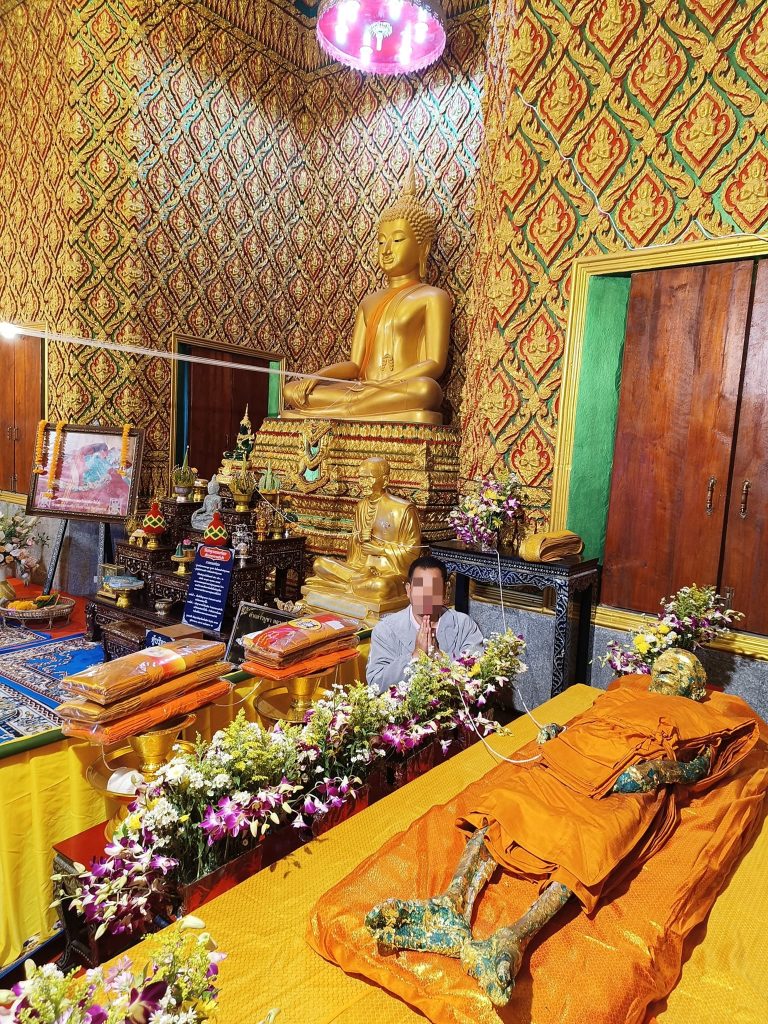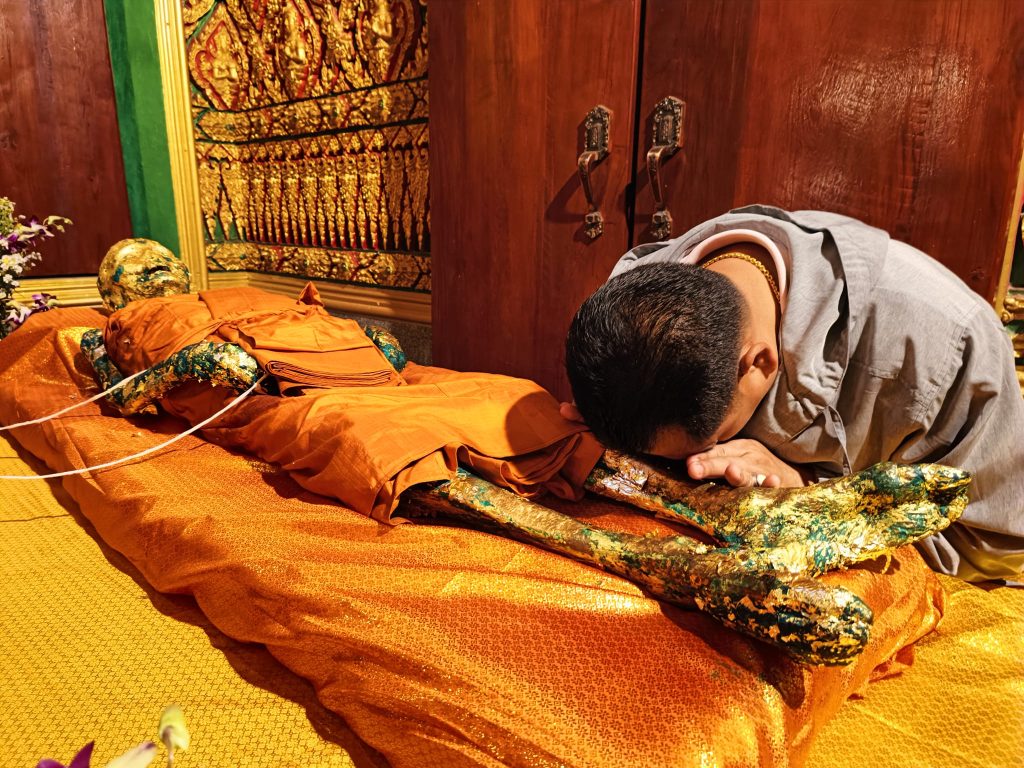 IMages source: จิระ ยอดเพชร and Adinan Rattanapasert on Facebook and tourismthailand.org