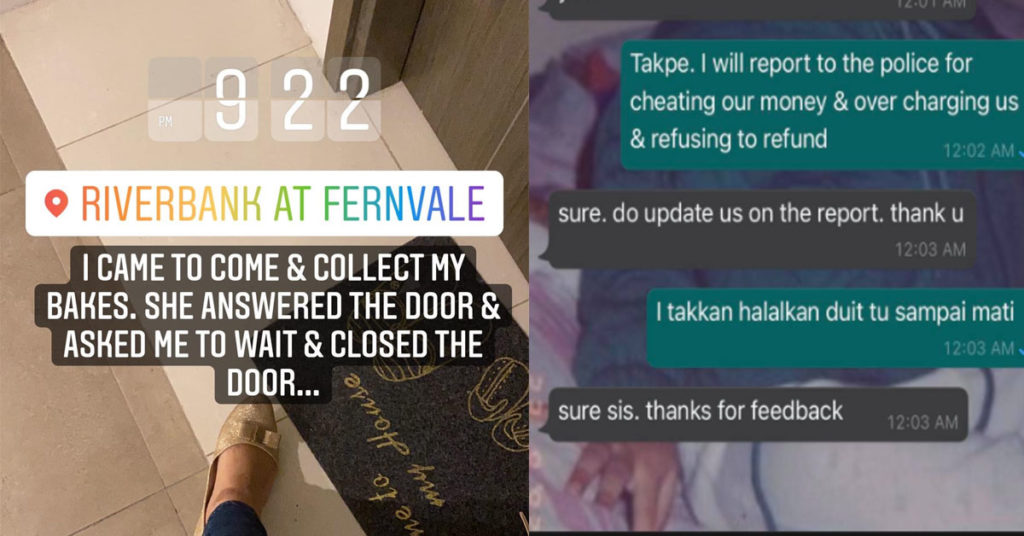 Social disputes escalated to business disputes, a woman who ordered food from a home baker was left to wait outside the baker's home after closing the door on her.
She stands there and waited for 30mins before the baker has the courage to come out and tell her that the order screwed up and her stuff is not read.
Then you make her wait outside for what?
Then the customer demanded a refund for wasting her time and the baker to her "Sure" to report to the Police.
The post has been shared over 1,600 times since yesterday.
We have compiled a video of all the information related to the case
Here is what the netizen posted on Facebook:
I want to share my last encounter & final straw of my patience with this famous baker SUGARYKNEADS CO. ok since there has been too many incidents & almost all is about delivery. But my case, i self collected & got this. This happened in may 2021 before Hari Raya. Ordered bakes for my families & a friend. I was sooooo mad because I am insulted that way, to be treated that way & after hearing & seeing so many people got their day / event ruined by this HBB, I will share this. A repost from my instagram story when i was so bloody mad & angry for being so disrespected in that manner.
To her, she thinks an apology & refund for the bakes i dont get, will settle this, but you truly insulted me. Alot cases was linked to delivery issues, i got that too. That was why i wanted to self collect. But self collect & this is what happened. No one should be treated like this or any other ill mannered way she has done. & This is to create awareness & for owner to have a sense of responsibility for her flaws/ mishaps/ poor service because she clearly doesnt have one.
I took this while waiting, and texted my sis that im waiting for her to get the bakes & its kinda taking too long. My sis was the one who liased with her because at that time i was already too exhausted with her service, only buying because my families & a friend wants it. Been ordering yearly since they established in 2019.
We already texted her before hand while i was on my way, she replied ok. Didnt even inform anything about no bakes to be collected. It could have save my time & hassle right? But i really dont know whats her intention or purpose.