The Singapore Food Agency (SFA) has detected the presence of dehydroacetic acid in Xiang Piao Piao Muscovado Sugar Mix (Bubble & Red Bean) Milk Tea and Matcha Mix (Bubble & Raisin) Milk Tea, and directed the importer, Green Olive Group Pte Ltd, to recall the implicated product.
The recall is ongoing.
Dehydroacetic acid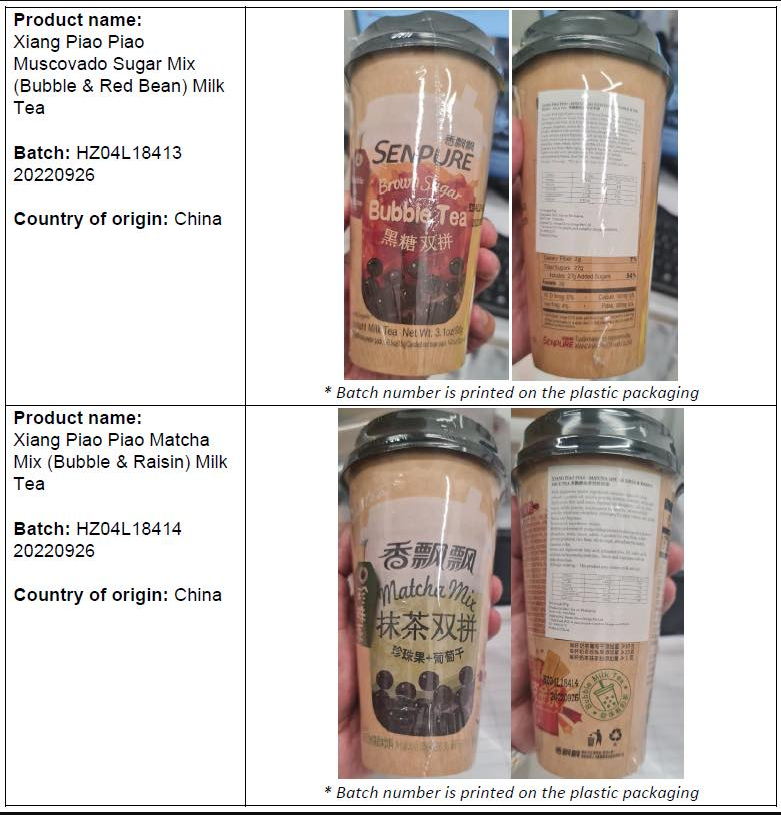 Dehydroacetic acid is not a permitted food additive under the Singapore Food Regulations. The food safety risk associated with the consumption of the implicated products is low.
Nonetheless, consumers who have purchased the implicated products and have concerns about their health should not consume it.
Consumers may contact their point of purchase for enquiries.
What is Dehydroacetic acid
Dehydroacetic acid is a preservative that is used in a variety of personal care and cosmetic products, including shampoos, conditioners, lotions, creams, and other skin and hair care products.
It is used to help prevent the growth of bacteria, fungi, and other microorganisms that can cause spoilage or deterioration of the product. Dehydroacetic acid is a synthetic compound that is generally considered to be safe and effective when used in small amounts as directed.
It is also approved for use as a food preservative in some countries but NOT Singapore. However, as with any chemical, it is important to use it responsibly and to follow the instructions for use provided by the manufacturer.