Authorities have identified the two suicide bombers involved in the attack at the Brussels airport on Tuesday, a senior Belgian security source told CNN.
They are brothers Khalid and Brahim El Bakraoui, both of whom were known to police, but for organized crime, not for acts of terrorism, state broadcaster RTBF reported.
Khalid El Bakraoui rented an apartment in Brussels that was raided last week and both are suspected of having ties to the Paris attack, the source said.
While Belgian officials say both brothers were suicide bombers, a U.S. official briefed earlier on preliminary evidence from the investigation says authorities are looking at the possibility that one of the airport explosions may have been caused by a bomb inside a suitcase and the other was a suicide bombing.
Now, the hunt is on for a third remaining suspect — a man in light-colored clothing who appeared next to the El Bakraoui brothers at the airport in security footage.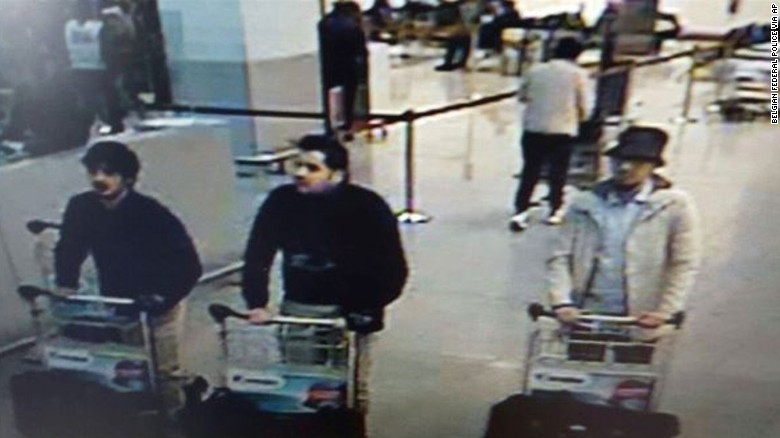 The three men who are associated with joining in the assaults at Belgium's Zaventem Airport.
Video demonstrates the men leaving a taxi and traveling through the air terminal, as indicated by two U.S. authorities.
The two in darker garments are accepted to be suicide aircraft who kicked the bucket in the blasts in the air terminal's flight lounge, as per Belgian government prosecutor Frederic Van Leeuw.
In any case, agents trust the man in light-hued dress planted a bomb at the airplane terminal, then left – a move that seemed, by all accounts, to be arranged, the two U.S. authorities said.
Powers are calling him a needed man and requested people in general's offer following him some assistance with downing.
"It's Salah Abdeslam once more," Dirk Coosemans, a journalist at Belgian daily paper Het Nieuwsblad, told CNN. "This one arrived to be a suicide terrorist, and he didn't do it."
Belgian media likewise reported a Kalashnikov ambush rifle was found in the flight lobby of the Zaventem airplane terminal.