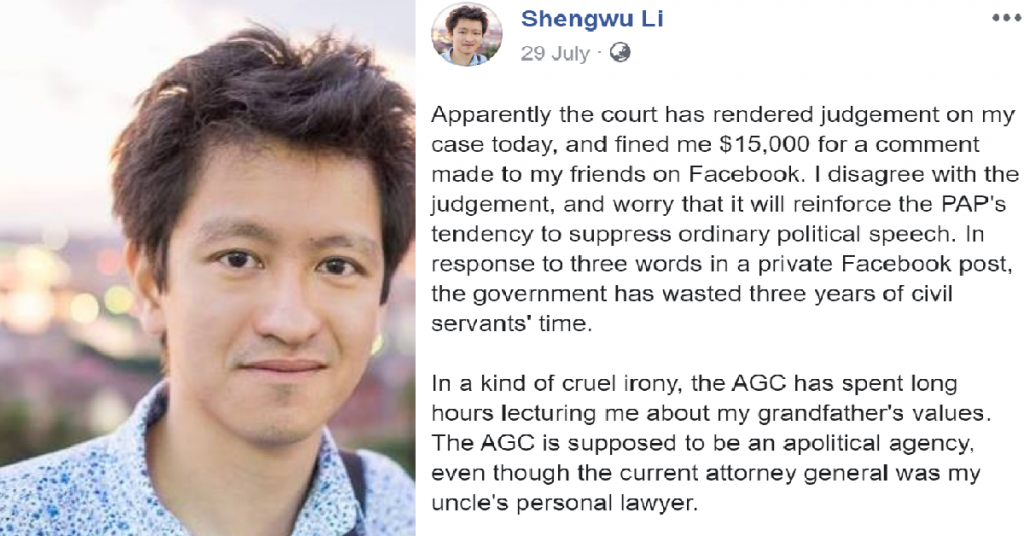 Li Shengwu, an assistant professor at Harvard University who is also the son of Lee Hsien Yang and the Nephew of Prime Minsiter Lee Hsien Loong, has decided to pay his $15,000 fine by the Singapore High Court after being found guilty of contempt.
However, he shared on his Fcaebook that his doing so doesn't mean he admits guilt.
Li wrote a Facebook post in 2017, captioning "Keep in mind, of course, that the Singapore government is very litigious and has a pliant court system."
The Attorney General's Chambers (AGC) said the statement "clearly impugns" the impartiality of Singapore's judiciary system.
Li wrote in a Facebook post today (August 11) that he would pay the fine for "peace and quiet", adding that doing so "avoids giving the Singapore government an easy excuse to attack me and my family."
Li said: "I do not admit guilt. I have never denied writing what I wrote, to my friends in a private Facebook post. I disagree that my words were illegal. Moreover, civilized countries should not fine or jail their citizens for private comments on the court system."