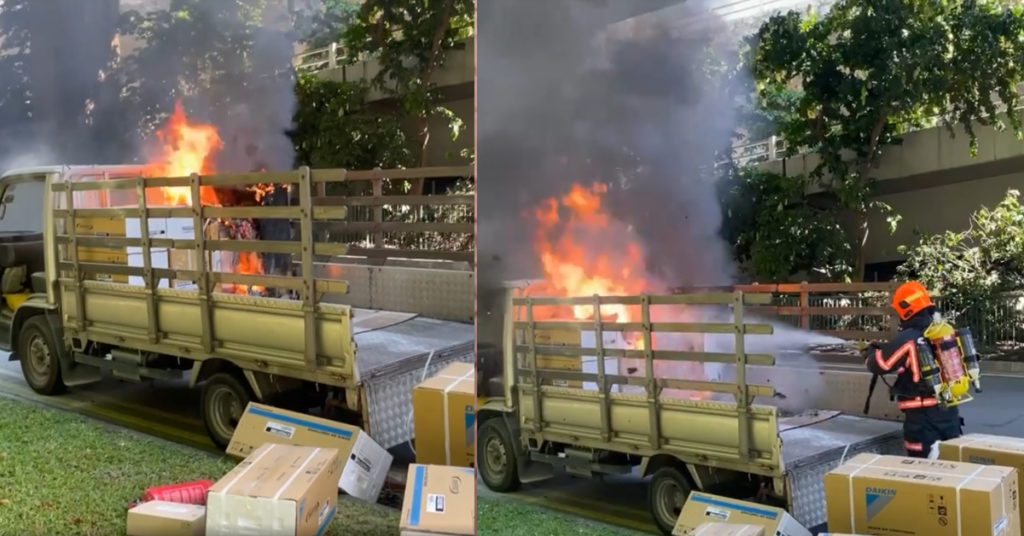 A netizen witnessed a fire along Keppel Road earlier today(Sept 17) at around 11 AM and here is what the netizen said on Facebook:
This happened along Keppel Road just 30 mins ago. I happened to be done with my appointment and was driving to my next. I then saw a tower of black smoke spewing from the side of the road. As I drove past, i saw this. Quickly filtered to the left, put on my mask (mati mati have to remember to do this) and ran to my boot and took out my fire extinguisher.
Ran to the truck. Poor guy was frantically removing his goods from the truck. A few seconds ago, he emptied his 4kg fire extinguisher. I asked him if there was anything explosive in his truck. He said no. I proceeded to pull the trigger on my extinguisher. At the same time, an ambulance passed by and the paramedics also pulled out their fire extinguisher. We sprayed at the fire and very quickly, it died down.
But we noticed that there were still some smouldering red ambers on the paper boxes. Both our fire extinguishers are by then already empty. So, in total, we used one 4kg extinguisher belonging to the truck driver, one 2kg extinguisher that I had with me and also, one 4kg extinguisher from the ambulance. The fire quickly came back. We had to wait for the fire brigade to arrive.
I tried to flag down any motorist passing by who may have a fire extinguisher with them by holding up my empty one and pointing to it. No one stopped.
The good thing is that a fire bike and a red rhino arrived at scene within less than a minute and they quickly put out the fire.
Folks. Please do carry a fire extinguisher with you if you are driving. You wouldn't know when you or someone else may need it.
Kudos to the Singapore Civil Defence Force for their great work. You guys are our Everyday Heros!
Source: Brian Ong